Return to Home
October 1, 1969 - AMAZING! METS WIN EAST WITH KOOSMAN, RENKO SHUTOUTS.
September 28, 1969 - METS, BRAVES TAKE CHARGE
September 21. 1969 - METS, BUCS TIED WITH 8 TO GO!
September 12, 1969 - TWINS WIN WESTERN FLAG
September 9, 1969 - METS SWEEP INTO SECOND PLACE
September 7, 1969 - PIRATES SNAP CHICAGO HEX
August 31, 1969 - DOWN THE STRETCH THEY COME!
August 10, 1969 - PUNCHOUTS AND WALKOUTS
July 31, 1969 - NL EAST: FIT TO BE TIED
July 24, 1969 - NL STYMIED IN 4-0 SHUTOUT.
July 20, 1969 - ASTRONAUTS SET FOOT ON MOON (and other news from the 1st half)
July 7,1969 - SENATORS SURPRISING IN AL
June 30, 1969 - FOUR TEAMS TANGLE IN NL EAST
June 19, 1969 - McLAIN NO-HITS SENATORS, 1-0.
June 15, 1969 - METS GET CLENDENON AT DEADLINE
June 9, 1969 - YOUNG BUCS SURPRISING IN NL EAST
May 31, 1969 - MINNESOTA'S MAGICAL MYSTERY TOUR
May 18, 1969 - STOTTLEMYRE NO-HITS HALOS AT YANKEE STADIUM
May 12, 1969 - BRAVES REBOUND INTO NL WEST PICTURE
April 28, 1969 - TIGERS, CUBS STRUGGLING THROUGH APRIL
April 22, 1969 - MINNESOTA TURNS BACK OAKLAND
April 20, 1969 - TWINS' OPENING STREAK SNAPPED AT 8 BY MESSERSMITH.
April 19, 1969 - CLENDENON UN-RETIRES WHILE THE HAWK CALLS IT QUITS
April 8, 1969 - OPENING DAY AND EXPANSION TEAM HEADLINES
March, 1969 - BASEBALL CELEBRATES ITS CENTENNIAL WITH CHANGE.
AMAZING! METS WIN EAST WITH KOOSMAN, RENKO SHUTOUTS.
Braves win West; O's, Twins set in AL for 1st ever league playoffs.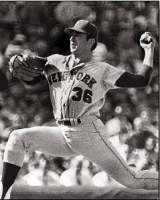 Jerry Koosman (22-7) gave the Mets an improbable championship with a five hit shutout at Wrigley Field.
CHICAGO, October 1 - The New York Mets clinched the first ever NL Eastern Division championship on the arm of Cy Young candidate, Jerry Koosman (22-7). Shortly after reports of former Met farmhand Steve Renko's shutout of the Pirates, Koosman put the finishing touches on a five hit shutout win, 4-0. The Mets swarmed Koosman after the final out as well as RF Ron Swoboda who drove in all four Met runs with a homer and a double. In Pittsburgh, the Pirates and Luke Walker, with the knowledge that the Mets were leading the Cubs, battled in a scoreless duel with Renko (6-7). Montreal acquired Renko as part of the trade for Donn Clendenon on June 15th, and the 24 year old rookie served as the Mets secret weapon at Forbes Field as he limited the Pirates to only two hits on the afternoon. In the ninth, Montreal loaded the bases against lefty Joe Gibbon (2-4) on two walks and a Bob Bailey single. With one out, Gibbon bobbled a potential double play comebacker off the bat of Jose Herrera. The misplay allowed Gary Sutherland to race home with the go-ahead run without a play. A dejected Pirate club which spent most of the summer atop the East, went down in order in the bottom of the ninth.

Steve Renko foiled the Pirate pennant hopes with a two hit shutout at Forbes Field.
Atlanta won its division yesterday afternoon with help from the other expansion team, the San Diego Padres. San Diego held on to defeat the Giants, 2-1. Padre 3B Van Kelly made the play of the game with bases loaded and one out in the bottom of the ninth as he backhanded a Fuentes grounder and then fired home to catch Don Mason at the plate. San Diego 2B Ron Slocumb speared Willie Mays liner off Billy McCool to end the game and eliminate the Giants. Later, the Braves took the field against the Cincinnati Reds knowing they were the division champs.Atlanta dropped that rain makeup game, 5-3. So, the first-ever league playoffs are not at all what the pundits expected. Three of the four contestants finished the 1968 season at or below the .500 mark. Only Baltimore (91-71) finished above .500, and they enter the 1969 post-season as the favorites on the heels of a current 11 game winning streak. On Saturday, the Mets, who finished ninth in the NL last year and behind the expansion Expos in most pre-season polls, will travel to Atlanta. The Braves outplayed the rest of their division down the stretch. On September 1, four teams were within a half game of one another, and the Braves, carried by Rico Carty, finished with a two game advantage with 18 wins in September.
The Orioles will host the Twins in a match-up seemingly decided all summer except for a surprising charge by Ted Williams' Washington Senators. The Orioles finally pulled away from Washington which won a franchise record 105 wins, with their current 11 game win streak. The tide has swung to Earl Weaver's club with their hot finish, while most of the season, it appeared Minnesota with their hot start was the superior team in the AL. Vegas bookmakers have made Baltimore a 3 to 2 favorite over Minnesota while Atlanta is a 11 to 10 favorite over the Mets.
METS, BRAVES TAKE CHARGE
Bucs 1 game out, Giants take 2nd with sweep in LA
PHILADELPHIA, September 28 - The New York Mets continued their improbable climb atop the NL Eastern Division with a 6-5 win at Connie Mack Stadium while Billy Williams stung a reeling Pirates ballclub with two-out, two-run game winning double in the ninth. That double gave New York another one game lead which they also enjoyed after Friday night's heroics by Williams. On Friday, NL Cy Young candidate Jerry Koosman (21-7) cruised to a 7-1 win over Philadelphia, and Williams singled home Kessinger in the top of the 10th for the game winning run after Pittsburgh had rallied with three runs in the ninth to tie the game. On Saturday, Johnny Callison knocked the Mets back into a tie with a two run homer off Cal Koonce in the 10th as Pittsburgh cruised with a 10-4 thumping of the Cubs. Yesterday, both clubs were involved in nail-biters as Art Shamsky hit a two run HR in the 7th to break a 3-3 tie, but it was Rod Gaspar's PH run scoring single in the top of the 8th that was the difference as the Phils scored twice in the 8th to cut the score to the final of 6-5. At Forbes Field, Al Oliver tied the game at three with a 2 run HR in the 8th, but Williams' two out double over Clemente in right gave Chicago a 5-3 victory. With two games to go, the outcome is still in doubt as New York travels to Wrigley to face the Cubs. Will Durocher's troops have enough fight in them to spoil the Amazins' dream and hang on to their own playoff hopes? New York has won 9 of their 14 contests with Chicago this season. The Pirates play host to the expansion Montreal Expos with whom they enjoy a 11-5 season record.
In the West, Atlanta has taken charge with a five game win streak, thanks to the hot hitting of Rico Carty. Only a week ago, the Giants seemed like the first of the quartet battling for Western supremacy all month to fade as the Dodgers swept a three game series at Candlestick Park. But, Clyde King's troops reeled off six straight wins, including a table-turning sweep at Dodger Stadium this weekend, leaving San Francisco two games out with three to play. The Giants return home to host the expansion Padres while Atlanta will host Cincinnati, who is one of the few teams that have given the Braves trouble this year.
In the American League, the Baltimore Orioles finally put away those surprising Washington Senators. Williams' charges matched the O's step-by-step during the final months, but rookie manager Earl Weaver's club put together an eight game win streak to capture the Eastern crown on September 27. Baltimore received help from a most unlikely source as the last-place Indians took the first two games of their series at RFK Stadium, thanks to home runs by 1B Tony Horton in each game. Horton's three run HR to cap a five run outburst on Saturday against Barry Moore (13-7) drove a nail into the Nats pennant hopes as Baltimore defeated New York, 7-5, behind homers by Boog Powell and Curt Motton.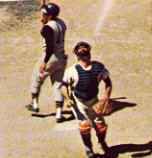 Jerry Grote circles under the pop foul as Jose Pagan walks away in disgust in the Mets comeback double-header win yesterday.
NEW YORK, September 21 - The New York Mets overcame three run first-inning deficits in both games of yesterday's doubleheader to sweep Pittsburgh before 55,901 fans at Shea Stadium. The rallies tied the Amazing Mets with a stunned and shaken Pirates club, who has led the Eastern Division for most of this season, with only 8 games left to play. New York hosts the former champion Cardinals at Shea before finishing the season at Connie Mack Stadium versus the Phillies. Pittsburgh may have an advantage of concluding the season at home against the Phillies and Cubs. The Mets concluded their season series with the Pirates with a 10-8 record. That record may be key as all officials are left scrambling for their rulebooks for the new division tie-breakers. The events in the NL West are even wilder as Houston and Atlanta stand only a half game behind the front-running Dodgers. The Braves and Astros play a critical three game series at the Astrodome beginning tonight. That series may also be important in the event of a three-way tie-breaker is necessary. In that event, the team with the winning record against the others will receive a bye while the other two teams play. The winner of that game will then host the team that received the bye. Atlanta leads its season series with Houston 8 games to 7.
Back at Shea Stadium, the Mets and Pirates split a twi-night doubleheader on Friday as the Mets rallied to win the second game on Donn Clendenon's ninth-inning single to left center that eluded CF Matty Alou, allowing Tommie Agee to race home from first base for the 5-4 win. Pittsburgh took the series edge on Saturday as Bob Moose (11-5) scattered five hits in a 3-1 Bucs win. Manager Larry Shepard revealed after that game that Pittsburgh shipped Jim Bunning to Los Angeles in order to get Moose into the rotation. On Sunday, Pittsburgh scored three runs in the first off Jerry Koosman, including Jose Pagan's two run HR. The Mets chipped away with 2 runs in the third on Ken Boswell's two run double, and then took the lead 4-3 on a Ed Kranepool RBI single in the 7th. Pittsburgh tied it in the ninth on a RBI single by rookie Dave Cash scoring Matty Alou who had 4 hits in the contest. Freddie Patek and Jerry Grote traded solo homers in the 11th, and Grote won the game in the 13th on a RBI single. It was a tightly contested game with 35 hits and both teams leaving 25 men on base. In Game 2, Pittsburgh took a similar three run lead on Willie Stargell's two run home run in the first inning. But, the Mets fought back and took the lead in the seventh on another two run Boswell double.
TWINS WIN WESTERN FLAG
Martin's club dominates AL West; first team to clinch playoff berth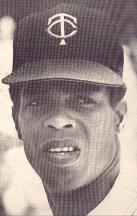 Rod Carew is one of the AL batting leaders while serving most weekends on military reserve duty.
BLOOMINGTON, September 12 - The Minnesota Twins captured the first-ever divisional crown with an 8-3 win over the Kansas City Royals on Friday night. Jim Perry won his 14th with a complete game effort, and helped his own cause with a two run single off Jim Rooker (11-9) in a four run third inning for the Twins. Kaycee OF Ed Kirkpatrick sliced the lead in half with a two run single in the fifth, and the eyes of the 13,366 in attendance shifted to the Oakland-Chicago score which was tied at one and going into extra innings. In that game, Tommy Reynolds, subbing for a hospitalized Reggie Jackson, singled home two in the tenth for a 3-1 Oakland win.
Minnesota won its first 8 games of the season and then won 22 of first 23 on the road, including a season record 11 game win streak. The team then coasted through the AL West with a division-leading offensive attack and pitching staff. Despite a somewhat disappointing year from the Killer, Harmon Killebrew (.242, 38 HR, 90 RBI), Billy Martin has a balanced attack. Tony Oliva leads the AL in hitting with a .348 average. Rich Reese has been magnificent with a .355 in 114 games and a career high 20 HR's, more than doubling his career total. Panamaian 2B Rod Carew is hitting .325 with 12 HR and 25 stolen bases. Carew has paired with SS Leo Cardenas, acquired from Cincinnati for Jim Merritt last winter, to form a potent keystone attack. Cardenas has dropped off a bit of late, but is still batting .317 and a career high 83 RBI. Cesar Tovar is a real spark-plug and Martin has used him at second, third, and center and left field. Tovar leads the team with 34 stolen bases. Typically one would look to the starters for the pitching leaders, but fireman Ron Perranoski is the Twins ace. Perranoski is 10-3 with 24 saves in 56 games this season. Outside of skipper Billy Martin, most view Dave Boswell (19-9) as the number one starter. Martin punched out his ace last month at a Detroit bar. Boswell has not let that incident disrupt his season, winning nine straight games in July and August. However, he has dropped his last two games, and hopes to rebound tonight against Oakland. Jim Kaat has won 17 games but Martin has been using the lefthander, who has started 30 games this season, in relief lately. With the division in hand, Minnesota will be watching Baltimore and Washington battle in the East. Though no player will admit to this in public, Martin and his boys must be rooting for the surprising Senators who they enjoy a 11-5 record against this season. Baltimore is the only club who has handled Minnesota this season (5-7).
METS SWEEP INTO SECOND PLACE
Koosman wins 19th; Seaver 18th as Shamsky drives in five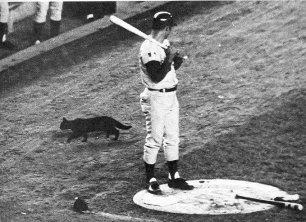 Chicago fans hope this black cat crossing past the Cub dugout in last night's 7-1 loss at Shea Stadium is not a sign of things to come during this tight pennant race.
NEW YORK, September 9 - The New York Mets inched their way to an improbable pennant run by sweeping the Chicago Cubs in a two game series at Shea Stadium. New York won in thrilling fashion, as has been the case all season, when Rod Gaspar's fly ball to right was deep enough to score Ron Swoboda from third base in the bottom of the ninth. The Mets took an early 2-1 lead in the fourth on catcher Jerry Grote's two run homer to center. New York threatened again in the fifth after a one out Tommie Agee single against Bill Hands (13-14). Wayne Garrett fought off an inside fastball, hitting the ball into shallow right field. The ball rolled into foul territory before Jim Hickman could track it down, leaving Agee at third and Garrett at second base. Ed Kranepool lauched a drive to right center, but Hickman caught the ball with a run-saving over the shoulder catch. Agee was able to score from third, but Hickman took a sure double away from the Met firstbaseman. It turned out to be a critical run as Ernie Banks hit a two run homer, his 25th, to tie the game at three apiece. The teams remained scoreless until the ninth when Swoboda opened with a single to right. Cubs manager Leo Durocher replaced Hands with side-armer Ted Abernathy to face Grote. The Met catcher laid down a sacrifice bunt, advancing Swoboda to second. Bud Harrelson singled to right, and Swoboda was held at third. Gaspar, a .182 hitter, pinch hit for Koosman, and drove in the winning run with a flyball just shy of the warning track in right field.
In the second game of the series, Tom Seaver (18-9) received surprising early support from his teammates. Surprising because it was scored off Cub ace Ferguson Jenkins (20-11). New York batted around the order with five singles and a hit batsman in the first to take a 3-0 lead. In the second inning, Agee doubled and scored the fourth Met run on a single by Wayne Garrett. Cleon Jones was plunked by a frustrated Jenkins before Art Shamsky cleared the bases with a three run circuit clout to right field. Shamsky drove in five of the Mets seven runs, and performed well defensively by robbing Jim Hickman of a home run in the fifth. Seaver's possible shutout remained the only mystery in this one, and that was spoiled in the eighth as PH Paul Popovich singled home Randy Hundley for the only Chicago run.
PIRATES SNAP CHICAGO HEX
After dropping 12 straight at Wrigley, Bucs take two for East lead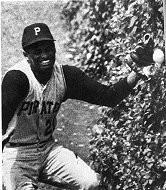 Roberto Clemente braces for impact along the right field wall at Wrigley Field in the weekend series.
CHICAGO, September 7 - In recent times the friendly confines of Wrigley Field have not been so friendly to the Pittsburgh Pirates. Until a 3-2 victory in a series finale back on June 23, Pittsburgh had dropped twelve in a row at the not-so-friendly confines of Wrigley Field dating back to July 5, 1968. With the Bucs and Cubs coming into this week's series in a statistical dead heat, it would have seemed likely that Chicago would leave the series in first place. However, Danny Murtaugh's crew landed on the North Side and took 2 of 3 to take sole possession of the division lead.

The Bucs got complete games from Steve Blass and Bob Veale in winning the first two games 5-3 and 5-1. After Cub C Randy Hundley homered in the 5th to tie the opener at 1, Willie Stargell blasted a 2-run shot onto Waveland Avenue in the 6th, scoring utility man Gene Alley who had drawn a leadoff walk off Ken Holtzman. Alley's 2-run double in the top of the 9th made it a 5-1 game; With 2 gone in the bottom half of the inning, Blass walked Jim Hickman and gave up Hundley's second tater of the game to make it close. Veale was able to cruise in Game 2 when his teammates rang up a 4-0 lead in the 1st off Fergie Jenkins. Matty Alou led off with a single and scored on Jenkins' 2-base throwing error on a comebacker off the bat of Alley. Stargell got on on a fielder's choice and Al Oliver followed with a 2-run homer to right. Manny Sanguillen, Richie Hebner and Carl Taylor put together back-to-back-to-back singles as Sanguillen scored the fourth run. Chicago's sole run came when Don Young got aboard on SS Freddie Patek's fielding error and scored on a Don Kessinger single.
The series finale was a scoreless duel until the bottom of the 9th. Pittsburgh starter Bob Moose, who had been lifted for a pinch hitter, was relieved by the usually reliable Bruce Dal Canton. Dal Canton gave up a single to Ernie Banks, then walked Hickman. After retiring Hundley on an infield fly, Dal Canton walked utilityman Paul Popovich to fill the bases. Murtaugh sent Dal Canton to the showers and brought in Joe Gibbon from the pen. Gibbon struck out C Ken Rudolph and Leo Durocher, in a desperate move, sent light-hitting 2B Nate Oliver to the plate to pinch hit for starter Dick Selma. Crowding the plate, Oliver took one for the team, as a Gibbon curve nailed him on the elbow, sent Banks walking home and made a shutout winner out of Selma.
DOWN THE STRETCH THEY COME!
Bucs, Cubs, Mets in Eastern hunt; four teams tangled in the West
New York, Aug 31 - The decision of baseball officials to split the two leagues into two divisions is paying off as fans in the National League are enjoying wild races in the two divisions. In the East, Chicago took a lead earlier this month, but have been caught by Pittsburgh, who spent most of the summer atop the division. And surprising everyone is the play of the New York Mets who are the hottest team in the majors, winners of 22 of 31 games this month. The Mets have closed to within a game and a half, thanks to the heroics of Cleon Jones (.322, 7 HR, 61 RBI) last weekend against Los Angeles. Jones hit late-inning game-winning hits last weekend against ace reliever Jim Brewer. The Mets have shown an amazing knack of late-inning rallies and comebacks this season.
Pittsburgh was the surprise early leader in the East during this summer, but the Cubs took over first place on August 1 with a nine game winning streak. But despite the hot hitting of Ron Santo (.296, 27 RBI, 96 RBI) who nearly has a RBI per game this month (24 RBI in 27 games). Santo hit a game winning HR against Atlanta in yesterday's game. (see below) Billy Williams has been the best Cub hitter this season (.333, 22 HR, 96 RBI). But, Danny Murtaugh's band of Pirates has hung tight with the Cubs. Roberto Clemente is the league's leading hitter (.364, 12 HR, 72 RBI) who also hit a game winner HR yesterday in yesterday's extra inning game in Houston. The glue to the Pirates' pennant hopes all season has been the outstanding bullpen work of Bruce Dal Canton (8-1, 2.31 ERA), Jim Hartenstein (7-2, 0.57 ERA, 14 SV -- 4 ER in 62.2 IP). As a team. the Pirates lead the NL in relief points.
As hectic as it is in the East, the West is truly a wild, wild race as four teams are within two games of the lead. A six game slide by the Dodgers on their trip east has opened the door for Houston, Atlanta, and San Francisco. The Braves, Dodgers, and Giants have all spent time atop the division thusfar, but the new kid on the block is Harry Walker's Houston Astros. Like the Mets, Houston has a second division history, but is for real this season. The club does not lead in any particular statistical categories, but all they've done recently is win. One of the keys is the development of pitcher Larry Dierker into one of the top right-handers in the NL.When then-GM Paul Richards signed Dierker in 1964, he predicted that the 18 year old could be a 20 game winner at the age of 20. At the age of 22, Dierker finally seems on the way of achieving that forecast (18-5, 2.38 ERA). Another key is the hitting of Denis Menke (.289, 4 HR, 81RBI) who has plenty of run producing situations with Jimmy Wynn (142 walks in 128 games) in front of him. Houston is pleased with the play of 1B Curt Blefary (.267, 12 HR, 76 RBI) though they traded current 20 game winner Mike Cuellar to Baltimore for Blefary. Houston recently acquired knuckleballer Jim Bouton (3-2, 1.84 ERA in 48 games) from Seattle for Dooley Womack. Bouton has post-season experience from his days with the Yankees, and should be a plus for this inexperienced Houston clubhouse.
All of the focus has to be on the National League because the American League seems to be already under wraps. Baltimore, winners of ten straight, has reeled out to a six and a half game lead over Ted Williams' gritty Senators bunch. Meanwhile, they are already printing playoff tickets in Minnesota as the Twins enjoy a 23 game lead, and their magic number is already down to 10.
KNOCKOUTS AND WALKOUTS
Manager Martin decks Boswell while Skinner resigns in Philly
Dave Boswell was wearing shades in Detroit last week. On Sunday, his manager Billy Martin revealed why.
Detroit, August 10 - The standings did not change but it has been one wild week in baseball as Twins manager Billy Martin confessed punching out pitcher Dave Boswell last week in Detroit and Philadelphia manager Bob Skinner resigns over the front office's treatment of Rich Allen.
The shocking news came today as Martin, manager of the high-flying Twins, disclosed he knocked Boswell out during a fight last Wednesday at a Detroit nightclub, the Lindell A.C., after Boswell had socked and kicked OF Bob Allison. Boswell, reported to have received 20 stitches to close facial wounds, did not show up for the weekend series in Baltimore. The right-hander, who has a 14-7 record for the AL West leaders, was sent home to Minnesota today as the Twins went to New York to continue their road trip against the Yankees. Martin, a scrapper during his playing days on and off the field, had seven stitches taken in his right hand which was badly swollen. Allison was reluctant to talk about the incident, but Martin said the big outfielder had several teeth chipped, sustained a black eye, and was kicked in the back.
Martin said the trouble started after pitching coach Art Fowler reported Boswell had not run his normal 18 to 20 laps preceding Wednesday night's game in Detroit, leaving the field after running two. "I saw Boswell after the game at a restaurant," Martin said, "and I told him I wanted to talk to him the next day about the laps. At about 11:30 [P.M.], Boswell left the place and said he was on his way, 'to get that squealer, Fowler.' Allison went outside to try to stop Boswell, and was standing there with his hands in his pockets when Boswell hit him with a Sunday punch, knocked him down and almost out. Both players were being held away from each other when I arrived on the scene. Boswell then ripped right out of this shirt and came after me. He struck me in the temple and in the chest." Martin said he then got the upper hand and landed "about five or six punches in the stomach, a couple to the head, and when he came off the wall I hit him again. He was out before he hit the ground." Martin said he would back any action taken by club owner Calvin Griffith. "We're trying to win a pennant," Martin said, "not battles."
Meanwhile in Philadelphia, 37 year old manager Bob Skinner finally had enough of his battles with the Phillie front office over slugger Rich Allen. After being suspended by the club for a month earlier in the year, Allen reportedly refused to report last week for an exhibition game against Reading. "The straw that broke the camel's back was the handling of Rich Allen," said Skinner, "Now I know what [Gene] Mauch went through." Skinner replaced Mauch on June 15 last season who also had his run-ins with Allen. Skinner said that the fines he imposed during Allen's suspension last month were cancelled by club owner, Bob Carpenter. General Manager John Quinn announced that coach George Myatt agreed to manage the team for the balance of the season.
On the field last Tuesday in San Diego, Cardinal ace Bob Gibson missed his first career no-hitter with one out in the ninth. The intimidating right hander set down the Padres in order until Ed Spezio, batting .192, broke the no hit bid with a single to right. In Gibson-esque fashion, the next Padre batter, Roberto Pena, was beaned by a fastball to the hip. Gibson finished with a 3-0 one hit victory, his 16th in 22 decisions. The pitching gem was the sole highlight of a West Coast swing that dropped the Redbirds nine games behind the Cubs for first in the NL East.
NL EAST: FIT TO BE TIED
Cubs' seven game surge knots Chicago with Bucs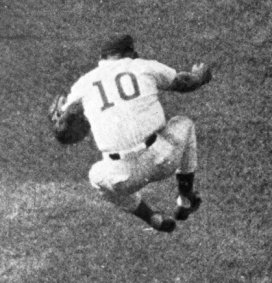 Ron Santo clicks his heels in joy as the Cubs tie Pittsburgh with a dramatic sweep of the Giants at Wrigley Field.
Chicago, July 31 - After the Cubs slow start in April, not many of Wrigley faithful would have thought Leo Durocher's club would be at the top by summer. But, Leo has pulled another rabbit out of his magic hat with a dramatic sweep of the Western contending San Francisco Giants at Wrigley Field. On two consecutive days, the Cubs scored in the bottom of the ninth to either tie or win the game. The club is on such a roll that Durocher even felt comfortable playing hooky on his birthday, July 27, when Jenkins shut down the Dodgers. Chicago has reeled off seven consecutive wins after dropping their first game after the All-Star break to the Dodgers. Meanwhile, those same Dodgers were shutting down the Pirate offense that has kept Pittsburgh atop the East for the past two months. Osteen and Singer blanked the Bucs for a twinbill sweep yesterday, thereby knotting the NL East.
Billy Williams is enjoying a fabulous year. Williams is fifth in the NL with a .333 average, tied for the team lead with Ron Santo at 19 HR, and is third in the NL with 82 RBI. Chicago enjoys a balanced attack of power with Santo, Williams, Banks (18 HR), and Randy Hundley (13 HR). Jim Hickman has been earning more playing time of late with 10 HR, including a 2 run blast that ignited yesterday's comeback. Williams and SS Don Kessinger are 1-2 in the NL in hits. But, perhaps the overlooked facet of the Chicago game is a pitching staff that is third in the NL with a team ERA of 3.00. Dick Selma (9-3; 2.74 ERA) who was obtained from San Diego in April has filled out a rotation of Jenkins, Hands, and Holtzman that is capable of winning any given day. Though Chicago leads Pittsburgh in team offense and pitching, it remains to be seen if Durocher's Cubs have enough in the tank to pass the Bucs during the hot days of August.
This weekend, San Francisco travels to Pittsburgh to attempt to regroup from the debacle at Wrigley while the Cubs will entertain the expansion Padres. The Giants sank into fourth place, three back of the Dodgers and only three ahead of the pre-season favorite Cincinnati Reds. Just as Chicago has crept back into the pennant picture, so to have the Houston Astros. It's been a long haul for Harry Walker's club from their expansion days at Colt Stadium earlier this decade. 22 year old Larry Dierker, considered the club's franchise player, has finally settled into a groove. Dierker (14-4; 2.40 ERA) is the ace of a staff that leads the majors with 809 strikeouts. Perhaps the biggest factor to the Astros success is that of rookie Tom Griffin (5-8; 2.93 ERA) who leads the club with 181 strikeouts. Houston has moved to within two games as Atlanta also suffered a setback at Philadelphia. It will be interesting to see if the Astros young staff can contend with the Dodgers down the stretch.
In the American League, the eyes of the nation will be on Metropolitan Stadium as the Baltimore Orioles square off with the Twins. Saturday's game will be NBC's Game of the Week, broadcast by Curt Gowdy and Tony Kubek. The expected pitching matchup of aces Mike Cuellar (16-3) for Baltimore and Jim Perry (10-6) for the Twins. The Orioles have slowly slipped away from the surprising Senators who remain only a game and a half out while the Minnesota Twins have dominated all season.Billy Martin's club won 24 of its first 26 road games. However, the Orioles match up well with Minnesota and are the only club with a winning record against the Twins this season. Baltimore has taken four of the six games played between the two clubs. Washington began the second half with a grueling West Coast road trip. Though big Frank Howard is grabbing the headlines with a major league leading 39 home runs, it is manager Williams' pitching staff that is getting the job done. Washington leads the AL with a team ERA of 2.71, thanks in part to a strong bullpen headed by Darold Knowles (1-0; 12 SV, 2.91 ERA). In fact, it should come as no surprise that a strong bullpen is becoming a key to success in the majors. The top 3 bullpens in the AL, ranked in saves, are Minnesota, Washington, and Baltimore: the 3 contenders in the league.
NL STYMIED IN 4-0 SHUTOUT.
Petrocelli's home run merits MVP award for Bosox shortstop.
WASHINGTON, July 23 - After last night's first-ever rainout in All-Star Game history, 45,259 returned to RFK Stadium this afternoon to celebrate the centennial of Major League Baseball. There were no fireworks to be seen either in the sky or off the bats of the National League All-Stars, as a half dozen American League hurlers allowed only 2 hits and 4 baserunners en route to a 4-0 win.

The pair of NL hits came off the bats of Cubs 3B Ron Santo and legendary Giants CF Willie Mays. Santo's single came off Yankee starter Mel Stottlemyre with one down in the 2nd. Mets LF Cleon Jones then fanned and Reds C Johnny Bench grounded out to short to strand Santo. The Say Hey Kid, still looking spry at 38, replaced starter Matty Alou of the Pirates in the 6th and led off with a scorching single off Oakland's Blue Moon Odom but was also left to dry as Houston's Dennis Menke, the Bucs' Roberto Clemente and Cincy's Lee May could not move him up. The only other National Leaguer to reach base was Atlanta's Hank Aaron; the Hammer drew a pair of walks off Stottlemyre in the 1st and Cleveland's Sudden Sam McDowell in the 4th, respectively.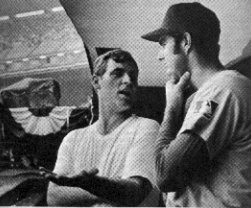 Denny McLain expostulates while NL starter
Steve Carlton chucks his chin. They were
checking the field after the storm that caused a delay of the game. McLain took off soon after for a dental date in Detroit.
AL batters didn't exactly put on a light display of their own, but game MVP Rico Petrocelli's 2-run blast in the 2nd would provide them all the runs they would need. The Red Sox shortstop took a fat fastball from Cardinal starter Steve Carlton deep into the left field stands after Carlton gave up a leadoff single to A's 3B Sal Bando. Stottlemyre started and was on the mound after Petro's homer, and was credited with the victory. McDowell, a bright spot in what has been another dismal season in a dismal decade for the Tribe, followed giving up only a walk to Aaron over the 4th and 5th innings. Added insurance for the Junior Circuit came in the 5th when the Angels' Jim Fregosi, pinch hitting for McDowell, singled to center and stole second off the Mets' Jerry Koosman. The Twins' Rod Carew followed with a line drive single to right center to score Fregosi, and came home on another single to right center by the Orioles' Paul Blair.

For the first time in their expansion history, the host Washington Senators placed two players in the Midsummer Classic. Starting LF Frank Howard raised a ruckus when he took Carlton deep to right in the bottom of the 1st, but the cheers turned to groans and respectful applause when Aaron leaped at the fence and snatched away what looked like a sure homer. Hondo whiffed against Carlton in the 3rd. The other Nat participant, RP Darold Knowles, closed the game out by setting the side down in order in the top of the 9th.
One of the bigger surprises of the game was the play -- or lack thereof -- of the Tigers' Denny McLain. McLain was scheduled to start Tuesday night but the washout prevented that. Denny had a dental appointment in Detroit the following day; considering good dental hygiene a priority, he kept the appointment and was late for the game. His everyday manager, Mayo Smith, gave McLain time off for good behavior and went with Stottlemyre.
ASTRONAUTS SET FOOT ON MOON
Senators, Bucs end first half atop their divisions and other way-out news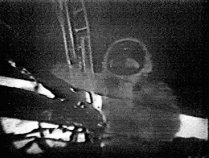 Neil Armstrong set foot on the Moon
last night to a worldwide television audience. Click on Mr. Armstrong to see that moment in history (and more).
Washington, July 20 - As millions watched on television late last night, Neil Armstrong set foot on the Moon, thousands of baseball fans will look at today's baseball standings with an equal sense of amazement. The Washington Senators, picked by many to finish last in the AL East, are in a deadlock with Baltimore atop the division. The young Pittsburgh Pirates, who lost so much veteran talent in the expansion draft last fall, have held their NL East lead through June to the All-Star break.

Rookie manager Ted Williams has wowed the Nation's Capital with a powerful offense led by big Frank Howard and an astonishing performance by its pitching staff frontlined by sophomore senation Dick Bosman and Jerry Coleman. Williams has his club fundamentally sound as the Senators lead the league in fielding. Baltimore's front nine is the finest starting group in baseball, and another rookie manager, Earl Weaver, has a top notch pitching corps as well headed by Houston-import Mike Cuellar (15-2; 1.95 ERA). The defending champion Detroit Tigers have been baseball's biggest bust, especially slugger Willie Horton (.209, 13HR, 39 RBI) who left the team for a series in May.


Another rookie manager, Billy Martin, has whipped his Minnesota Twins into shape. The Twins have been baseball's best team over the course of the first half. Oakland's young nucleus of Reggie Jackson (.252, 20 HR, 56 RBI) and Sal Bando (.285, 12HR, 56 RBI) have had fine halves, but not well enough to challenge Minnesota. California and Chicago have suffered through embarrassing first halves which saw both teams relieve their managers of their duties. Both expansion teams, Kansas City and Seattle, have enjoyed limited success, but have surprised many by finishing the first half in front of the established Angels and White Sox.
Pittsburgh grabbed the reigns in the NL East at the beginning of June as has held through threats by St. Louis, New York, and now Chicago. Buc pitching has risen to surprising levels to support an offense of Clemente, Stargell, Hebner, and Matty Alou. Philadelphia's hopes disappeared with Richie Allen's departure and suspension from the team on June 24, but Allen returned to the club yesterday. Defending champ St. Louis has battled through some injuries, losing Vada Pinson for some time in May. Chicago has made a late run at Pittsburgh, finishing the half only two games out. Lost in all the surprises thusfar is the performance of the New York Mets, who like the Senators, were a favorite cellar pick in the East. Tommie Agee (.290, 12 HR, 45 RBI) and IF Al Weis (.302 in 179 AB) have made surprising offensive contributions to a blossoming pitching staff of Seaver (11-7, 2.63 ERA), Koosman (11-3, 1.98 ERA), and rookie Gary Gentry (9-6, 3.15 ERA).

The NL West has been a wild affair for most of the 1969 season. The Atlanta Braves took an early lead in part to a MVP effort from Henry Aaron (.354, 28 HR,68 RBI). However, pitching woes and injuries have derailed the Braves as the Dodgers and Giants finish the half tied for first. Willie McCovey (.301, 32 HR, 76 RBI) is the early pick for MVP and Juan Marichal (13-1, 1.66 ERA) has been Gibson-esque this season. Willie Mays (.329, 12 HR,55 RBI) has proven he has plenty left in the tank, and Bobby Bonds (.244, 19 HR, 48 RBI, 20 SB) is developing into a Giant triple threat. With the three battle drawing most of the attention, the Houston Astros have snuck into the race, only three back of the top at the break. "Watch out for the Reds" -- famous last words perhaps of Cincinnati manager Dave Bristol this spring. But, others have had to watch out for the Reds as they fall like a rock down the standings. Cincinnati pitching is no contest to the top offense (NL best .280 team average) which local writers have tabbed as the "Big Red Machine". Young gun Gary Nolan was lost to arm troubles after only 3 starts and ace Jim Maloney has battled through the injury bug this first half as well. Reliever Wayne Granger is the only standout, but he may need his arm sewn back on as Bristol has marched the right-hander out in 44 of the Reds 90 games so far. Jim Merritt, acquired from the Twins, has been disappointing at 6-9 and a 4.05 ERA.
SENATORS SURPRISING IN AL
Williams has turned Nats around into a first half contender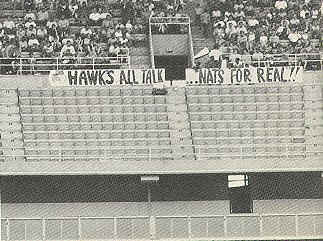 Washington fans have come in support of the club, but still
boycott the lower level OF seats due to owner Bob Short's
ticket price increase. The banner jabs Cleveland OF Ken
Harrelson in yesterday's 9-1 Washington win.
Washington, July 7 - When Minneapolis businessman Bob Short bought the Washington Senators from James H. Lemon and the Estate of James M. Johnston last December for $9 million, very few people expected the club to show any improvement on the field. Short -- who had bought the NBA's Minneapolis Lakers in 1957 for $300,000, moved them to Los Angeles in 1960, and sold them to Jack Kent Cooke in 1965 for $5.5 million – was in fact expected to use the club as a tax shelter. Nonetheless the Democratic National Committee treasurer set to revamping the club at the managerial level. On January 29 Short fired field manager Jim Lemon and general manager George Selkirk; three weeks later he would hire Boston Red Sox Hall-of-Famer Ted Williams as Vice President and manager.
On the field the team that finished last in the 10-team AL in '68 looked little changed. Williams inherited two of Lemon's coaches, pitching coach Sid Hudson and first base coach Nellie Fox, while taking Wayne Terwilliger away from managing the Nats' AAA farm in Buffalo to coach third base. Many pundits picked them for the basement of the AL East, looking barely better than the expansion Pilots and Royals and with scant hope of improving their 65-96 record.
What the Senators have done behind Teddy Ballgame is nothing short of phenomenal. As of July 7 the club is at 56-31, solidly entrenched in second in the East and a mere 3 ½ games behind Earl Weaver's mighty Baltimore Orioles. Williams' nearly scientific knowledge of hitting and his constant tutelage of Washington batters have caused a tremendous offensive turnaround. The two biggest beneficiaries have been Frank Howard and Mike Epstein, who are running 1-2 in the AL home run race. Howard (.274, 44 HR, 106 RBI in '68) is currently at .311, 29 HR, 61 RBI; but Hondo's strikeout to walk ratio, a poor 141-54 last year, is now 41-34. Epstein (.234, 13, 33 in '68) is faring even better, at .328, 27 HR, 58 RBI; still Williams chooses to bench him against left-handers. Several other Nats can claim great batting improvement: Ken McMullen (.276 vs. .248), Del Unser (.273 despite a slump vs. .230), Ed Brinkman (.240 vs. .187), and Paul Casanova (.235 vs. .196). Overall the club's average has risen from .224 under Lemon to .245 today.
The pitching staff must be inspired by the increased offensive support; the
group that was last in the majors last year with a 3.64 ERA is now 3rd in the AL with a 2.79 ERA. The core of the rotation – Joe Coleman (8-5, 2.23), Dick Bosman (8-2, 2.30), Jim Hannan (7-2, 2.56) and Barry Moore (9-3, 3.19) -- has racked up strong numbers. The weak link, long-time Washington favorite Camilo Pascual, was sold to the Reds yesterday; competition for the fifth starter spot will be fierce between Casey Cox (7-3, 1.71, 2 SV) and Jim Shellenback (2-0, 2.12, 1 SV). Darold Knowles, who returned from Air Force duty on May 26, has been devastatingly sharp in relief. Although he has no decisions, Knowles sports a 1.72 ERA and has racked up 10 saves in 10 save opportunities.
Defensively the Nats have been stellar. Their .989 fielding percentage leads the AL; they have committed the fewest errors by far (39), given up the fewest unearned runs (16) and turned the most double plays (98). Brinkman and McMullen are certain Gold Glove candidates, and the keystone platoon of Bernie Allen and Tim Cullen has been solid, too.
Unfortunately, some of the excitement in Washington has been of the nervous kind. Only two days after buying the Senators, Short went on record in the Washington Star to say that, although he didn't buy the team to move it, "I'm not committed to keeping the team in Washington if D.C. (now Robert F. Kennedy) Stadium is not made safe for the fans." Short also raised ticket prices to a MLB high for 1969, prompting a fan boycott of the lower level outfield sections. The final two games of spring training against the Pirates, originally scheduled to be played in Louisville, Kentucky, had to be moved due to poor field conditions. Short suggested that the games be moved to Arlington, Texas, and the Bucs agreed. Even as this year's Nats are closer to first place later in the season than any Washington club since 1945, the uneasy feeling that the Nation's Capital may be left without baseball again in the near future has begun to stir in the guts of the Senator faithful.
FOUR TEAMS TANGLE IN NL EAST
Bucs, Cards, Mets, and Cubs all staying together in tight race.
St. Louis, June 30 - Last year's NL champ Cardinals were thought to be a cinch in the new Eastern division. GM Bing Devine added Vada Pinson, Joe Torre and pitcher Dave Giusti to last season's pennant winning personnel. The Cardinals, Pirates, Cubs, and Mets have spent the entire month of June within four games of another atop the NL East. The Cards may have fallen a bit to the rest of the pack, but don't tell that to Bob Gibson and Lou Brock. Rumors persist that Gibson has lost a bit off his fastball, but still he is 11-4 and the Cards seem assured of a win each time he steps to the mound. Brock is flirting with .300 and is third in the league with 59 runs scored, second behind Pete Rose and Bobby Tolan who the Cards traded to the Reds for Pinson. St. Louis fans should be pleased with Pinson's contributions - .308; 10 HR; 52 RBI. Pinson missed some time in May after being hit in the leg by a pitch. Despite the new additions, the Cardinals have been unable to shake the upstart Pittsburgh Pirates who went into June with a half game lead. The Bucs have put together young and old as veteran Roberto Clemente leads the NL in hitting with a .382 average. Pittsburgh is second in the league in batting, but the bullpen,anchored by sophomore Bruce Dal Canton (6-0; 2.21 ERA), has been the Bucs' strength. Pittsburgh leads the NL in relief points, and is second in bullpen ERA with the second highest total of relief innings.
The surprise of the East must be the New York Mets, who many predicted to finish behind the expansion Montreal Expos. The Met aces, Tom Seaver (10-5) and soph Jerry Koosman (8-2), are enjoying fine seasons. Koosman and rookie Gary Gentry (5-6) both blanked the Bucs in a three game sweep at Shea this past weekend. Many knew the Met staff was capable, but the offense seems to have developed some consistency around Cleon Jones (.298; 4 HR, 27 RBI). Tommie Agee (.292; 12 HR, 30 RBI) and Ron Swoboda (.268; 6 HR, 30 RBI) have both improved their swings, and have contributed in key moments. Agee had struggled last season after keying a big trade with the White Sox. Agee batted only .217 with 5 homers in 132 games. The Mets bolstered their offense with the trade deadline acquisition of Donn Clendenon from Montreal. Clendenon has platooned with Ed Kranepool at first with disappointing results thusfar - .167 in 24 at-bats. The sweep of the Pirates demonstrates this club is capable, but a sloppy 4-3 loss last night reminds Met fans of their dreadful past. With the lead in extra innings, SS Al Weis threw what should have been the final out of the game past Kranepool at first to allow Lou Brock and Pinson to score the tying and winning runs.
Meanwhile, the Chicago Cubs continue to climb out of an early hole. Leo Durocher's club started the year 9-14. Billy Williams is leading the charge with a .337 average, fifth in the NL. But, the Cubs lineup is fearfully power-balanced as Banks, Hundley, and Santo each have 11 HR's, second only to WIlliams' 12. This week, the Cubs lost a chance to gain further ground by splitting a four game set at Wrigley Field with the Cardinals. Ferguson Jenkins (11-5) leads the staff that has been improved with the early acquisition of Dick Selma (6-2) from San Diego. Key series this week involve the Cardinals who face the Mets at Busch Stadium, then host Chicago for a July 4th weekend series. The Mets will travel to Forbes Field to face the Pirates' firepower this weekend.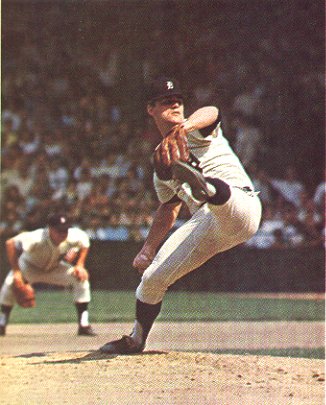 Denny McLain (9-4; 2.68 ERA) reverted to his
commanding form reminiscent of his 31 win
1968 campaign.
Detroit, June 19 - Denny McLain fired a no-hitter against the Washington Senators in a 1-0 Tiger victory to open a four game series. The MVP and Cy Young winner last season has been merely impressive this season, but yesterday's performance reminded the 27,725 fans in attendace of how dominant McLain can be.
McLain (9-4) retired the first 16 Senators in order before a leadoff walk to Mike Epstein in the fifth. Detroit had scored in the top of the frame on a Jim Northrup RBI single. Epstein advanced into scoring position on an infield grounder by Ken McMullen. However, every no-hit effort is always supported by strong defense, and McLain got his from 2B Dick McAuliffe. Washington SS Eddie Brinkman hit a line drive that almost decapitated McAuliffe to end the fifth. Brinkman drew McLain's second walk in the seventh, and again McAuliffe ended the threat with an outstanding effort. With Brinkman on second, PH Hank Allen hit a hard grounder to McAuliffe. The Bengal secondsacker played a bad bouce off his glove, but recovered in time to nip Allen at the bag.
In the top of the ninth, McLain stepped to the mound in search of his first no-hitter with the frenzied crowd roaring in support.. McLain struck out Brant Aylea by the ball eluded Bill Freehan, but the catcher recovered to toss Aylea out at first. Then, McAuliffe again saved the no-hitter with a diving stop of a Del Unser grounder beyond the infield dirt in right field. The crowd erupted in approval, and McLain stood even taller on the mound. McLain sawed Lee Maye off on the hands and SS Mickey Stanley surrounded the routine pop and clinched the ball as if the Series had been won again. Fans and teammates swarmed McLain on the mound as the righthander notched yet another accomplishment in a certain Hall of Fame career.
The no-hitter has been the sole highlight of what has been a disappinting year for the defending World Champs. Beyond McLain and Lolich, Mayo Smith has yet to find another starter. Earl Wilson (5-11; 3.43) has pitched decently but is not getting the breaks as in 1968 (13-12; 2.85 ERA). Joe Sparma's fallout with Smith last season has apparently carried over into this year. Sparma (0-5; 6.66 ERA) was upset when Smith replaced him with John Hiller down the stretch. However, the Bengal pitching staff has not received the offensive support it did last year. Northrup and Freehan are the only regulars whose batting average is over .250. McAuliffe and Willie Horton have more strikeouts than base hits this season.It's been a season of trouble for slugger Willie Horton. After being booed for the first time in his six year career in Detroit, Horton went AWOL from the team for 4 days in May. Horton hit .285 with 36 HR last year, but is hitting .208 with 11 HR this year.With Baltimore's dominance displayed thusfar, Tiger fans may have to be satisfied with events like McLain's no-hitter to celebrate in 1969.
METS GET CLENDENON AT DEADLINE
Expos receive four minor leaguers; Otis farmed out
Los Angeles, June 15 - Donn Clendenon was acquired by the New York Mets today from the Montreal Expos in exchange for four minor league players. Montreal had obtained Clendenon from Pittsburgh last October in the expansion draft. Montreal attempted to trade him to Houston with Jesus Alou for Rusty Staub in spring training. After Clendenon refused to report and announced his retirement, Commissioner Bowie Kuhn, in an unprecedented decision, allowed the trade to stand and ordered the parties to modify the terms. Clendenon returned to Montreal but reported late. He was used at first and hit only .156 with 10 RBI in 32 games. His best years were 1965 and 1966 when he hit .301 and .299, batted in 96 and 98 runs, and hit 14 and 28 home runs. Last year, he hit .257 with 87 RBI and 17 homers.

When Clendenon reports to the Mets in Philadelphia on Tuesday night, he will be platooned by manager Gil Hodges at first base, replacing Ed Kranepool against left-handed pitching. This move will allow Cleon Jones to remain in left field every day instead of sharing first base. To make room for Clendenon on the 25-man roster, the Mets optioned 22 year old OF Amos Otis to Tidewater. As payment for Clendenon, the Mets gave left handed hitting IF Kevin Collins and three right handed pitchers, Steve Renko, Jay Carden and Dave Colon. Only Collins played for the Mets. He and Renko will report to Montreal while Carden and Colon have been assigned in the minors by Montreal.

In other deadline moves, the Boston Red Sox shipped disgruntled C Joe Azcue to California for C Tom Satriano. Azcue was obtained by Boston on April 19 in the Ken Harrelson trade, and had left the team over a lack of playing time. The Mets also sold left handed P Al Jackson to Cincinnati. It was the second time in four years that the Mets sold Jackson. This move leaves only manager Gil Hodges as the sole survivor of the original roster of the 1962 expansion Mets.
YOUNG BUCS SURPRISING IN NL EAST
Atlanta, June 9 - Eyebrows were raised last autumn when the Pittsburgh Pirates allowed Donn Clendenon, Maury Wills, and Manny Mota to be lost via the Expansion Draft. But, GM Joe Brown and manager Larry Shepard must have known these losses would open the door for a trio of rookies - 3B Richie Hebner, 1B Al Oliver, and C Manny Sanguillen. The rookies have filled in quite nicely as Pittsburgh has battled atop the National League East all season long. The Bucs are currently 32-22 with a one game advantage over the red-hot Chicago Cubs who are 22-9 since a disappointing April start.
Al Oliver batted .315 at Columbus last season, and beat out fellow rookie Bob Robertson at first this spring. Oliver is now hitting a crisp .333 with 8 HR and 34 RBI. Hebner, 21, batted .276 at Columbus last season, and is also above .300 with a .302 average with 6 HR and 26 RBI. Sanguillen batted .271 in a 96 at-bat "cup of coffee" last season, and is currently hitting .252 with 17 RBI. Manny has taken over the number one job from the injured Jerry May. Sanguillen is perfect in the field in 288+ innings of work, only one of three NL catchers who can make that claim. These three rookies have molded well with the solid outfield of Roberto Clemente, Matty Alou, and Willie Stargell. Clemente who missed the batting title last season to Pete Rose by three points is well ahead of the senior circuit with a .415 average. Alou continues to be a dependable table setter, tied for 4th in the NL with 41 runs scored. This budding offense is second in the league in batting, and serves notice this club, if not this year, may be around for a while. The team plans to move into a new modern 50,000 seat stadium next season, replacing the 35,000 seat Forbes Field.
Pittsburgh's pitching has been supported by a fine bullpen effort to date. Bruce Dal Canton has six wins against no defeats out of the pen, and Chuck Hartenstein is also perfect at 4-0 and 5 saves. These two have picked up the slack for P Ron Kline, the former Twin fireman, (2-3; 3.56 ERA with 1 save) who was the Pirates ace of the bullpen last season with 12 wins in relief. But overall, Pittsburgh has the best bullpen ERA (2.03) in the National League in 150+ innings of work, second to San Diego in workload. The bullpen has been the key for the Bucs as Jim Bunning and Steve Blass have been the most consistent starters for the Bucs, but both pitchers are at a 4-4 mark.
MINNESOTA'S MAGICAL MYSTERY TOUR
Billy Martin's club has won 24 of 26 road games
Boston, May 31 - Ray Culp and the Boston Red Sox held on to accomplish what only the Orioles have done to date - beat the Minnesota Twins in their road grey uniforms. C Russ Gibson smacked a grand slam in the 2nd inning, and Culp (8-1) and the bullpen held back the mighty Twin attack for a 7-5 victory at Fenway Park.
The loss concluded a controversial road trip as Twins manager, Billy Martin, shook the Nation's Capital with comments about Senators manager Ted Williams. Martin was quoted in Wednesday's St. Paul Dispatch as saying, " He (Ted Williams) didn't worry about his team, only about Ted Williams. He wore the same uniform for 15 years. It didn't have to be laundered. He wouldn't slide to break up the double play. He never got his uniform dirty." Williams rebutted, " I was on base an awful lot, and I led the league in scoring six times. So I must have gone around second quite alot. I must have done some sliding somewhere." Martin later tried to back off the comments by saying, "I didn't rap Williams. I think he was the greatest hitter I ever saw; he was without peer. But there's more to play than just hitting...I am controversial enough without getting into arguments with every manager."
Martin's off-field comments have not distracted his team on the field. The formerly lead-footed, longball-belting Twins have a new look under Martin. The fiery rookie manager has added aggressive baserunning and improved defense to what was a one-dimensional club. Minnesota is second in the AL behind Baltimore in team defensive efficiency, team ERA (2.54), and first in team batting average (.281). Tony Oliva is one of the best hitters in baseball with a current .400 average and 44 RBI. Leo Cardenas has been on fire in the first 2 months of the season with a .364 average and 35 RBI at shortstop. Minnesota returns to Metropolitan Stadium for a 16 game home stand beginning with a three game series with the New York Yankees.
STOTTLEMYRE NO-HITS HALOS AT YANKEE STADIUM
Yanks' ace outduels Messersmith in opener of Sunday DH
New York, May 18 - Mel Stottlemyre threw a no-hitter at the anemic California Angels in a Sunday afternoon doubleheader shutout before 18,705 witnesses at Yankee Stadium. Stottlemyre (5-4) struck out 7 Angels and only a 2nd inning walk to 3B Aurelio Rodriguez kept Mel from perfection. The no-hitter is the first off the new lower mound as a result of off-season rule changes meant to compensate for the "Year of the Pitcher." Though not to detract from the accomplishment, California is the worst hitting team in the majors with a team .171 average. But, Stottlemyre's counterpart on the mound was one of the bright spots for California. Andy Messersmith (5-2) has registered 5 of the team's 8 wins this season, including a masterpiece in April which stopped the Minnesota Twins' season opening 8 game win streak.
Newly converted outfielder Bobby Murcer belted a Messersmith offering over the right center field wall in the first inning to give New York an early 1-0 lead. Tom Tresh added an insurance run in the eighth with a single scoring Joe Pepitone. Not to be outdone, Bill Burbach (1-3) also flirted with a no-hitter in the nightcap with a 1-0 one-hit victory. Burbach only allowed a double to new Angel 2B Sandy Alomar, the only hit by California in 18 innings of baseball. The promise and hopes of California's season have been a nightmare for manager Bill Rigney who is feeling the heat from the Angel brass. The feeble Angel offense is characterized by sophomore Rick Reichardt who hit 21 HR in his rookie year but is hitting .210 with no homers this season.
BRAVES REBOUND INTO NL WEST PICTURE
Philadelphia, May 12 - The Atlanta Braves have overcome a 2-5 start to tie the pre-season favorite, Cincinnati Reds for first place in the newly arranged NL Western Division. Amazingly, the Braves have done their best work on the road – 11-2 road record and 7-9 at home. But, the Braves have crafted a well-balanced attack that may improve through the season. Atlanta ranks second in the National League in batting average (.270), light years behind the torrid bats of the Reds (.314). But, Atlanta ranks second in team ERA (2.80) behind the highly touted Cardinal staff of Gibson, Carlton and Briles (2.68). The balance of hitting and pitching serves notice to the rest of the NL that the Braves may just be here to stay. Atlanta caught the Reds over the weekend with a sweep of the Phillies while the Reds dropped two games north of the Border to the expansion Montreal Expos. Meanwhile, San Francisco, who has finished second in the NL for the last 4 seasons, fell only a half a game back after being swept by the red-hot Chicago Cubs who themselves have climbed out of the NL East cellar on the back of an 8 game winning streak.
The Braves' offense is paced by RF Henry Aaron (.380; 10 HR; 21 RBI). Aaron is tied for the NL home run lead and has 520 career home runs, only one behind Ted Williams. Veterans Clete Boyer (.297; 4 HR; 10 RBI) and Felipe Alou (.289; 3 HR; 15 RBI) have also contributed to the early cause. However, 1B Orlando Cepeda, acquired during the off-season for Joe Torre, has not adjusted well to his new surroundings. Cepeda's few hits have been timely. Cha Cha is only hitting .225, however his 27 hits have driven in 23 runs which leads the team. Cepeda's post season experience with St. Louis, and his rah-rah style of play has the Braves thinking championship. Rico Carty is expected to return soon from a bout with tuberculosis which caused him to miss the 1968 campaign. Carty rejoined the team last week and is 1 for 7 in pinch hit appearances. An expected adjustment by Cepeda and the return of Carty to his pre-injury form will boost the potent Braves attack.
Phil Niekro (4-1; 1.45 ERA) has completely baffled NL hitters, and may have finally found a suitable batterymate to handle the knuckler in 20 year old rookie catcher Bob Didier. The Atlanta staff leads the NL in shutouts with 5, and Niekro has 3 of them. Lefty George Stone (3-0; 0.44 ERA) has pitched superb in both relief and starting roles. Reliever Cecil Upshaw (2-1; 1.59 ERA) has closed the door with a team high 13 appearances, registering 6 official saves.

TIGERS, CUBS STRUGGLING THROUGH APRIL
Detroit, April 28 - The defending World Champs are falling quickly out of the AL East picture, thanks in part to a season long batting slump and the red-hot start by Baltimore Orioles. The Tigers seem stuck in 1968 with a team batting average of only .215 which in 1969 converts to a 6-11 mark. The highest batting average by a Tiger regular is shared by OF's Jim Northrup and Al Kaline at .254. Norm Cash, Willie Horton, and Bill Freehan are all struggling under .200, and such a lack of support has forced Tiger starters to try to pitch a shutout every time out. Only 30 game winner, Denny McLain (4-0) has enjoyed run support over two runs (5.7). World Series hero Mickey Lolich (0-2; 2.28) is winless this year, thanks to only .8 runs of support in his first 3 starts of 1969. Joe Sparma (0-1; 3.38) wishes he had that kind of support as the right hander has received only .4 runs per game in his 3 starts! Mayo Smith hopes his team can turn things around as a win vs. Boston yesterday snapped a six game slide against division rival, Washington Senators and Baltimore Orioles.
Meanwhile, Leo Durocher must be at his wit's end as the Cub bullpen has served as anchor in a Chicago freefall to the NL East basement. As the old blues song goes, if it weren't for bad luck, Cubs would have no luck at all. With only 20 games under their belt, Chicago already been on the losing side of 9 one-run games, including 4 extra inning defeats. The bullpen has blown 6 of 11 save opportunties. The main culprit has been lefty Rich Nye who is 0-3 with a 17.36 ERA in 5 relief appearances. Nye has served up 3 gopher balls in only 4 2/3 innings of relief work. In a bold move, Durocher sent Nye to the mound for his first start against the Mets yesterday. Nye responded with a win, and 7 innings of work, surrendering only 6 hits, an earned run, striking out 6. Ted Abernathy, acquired in the off-season from Cincinnati, blew 2 consecutive games, including serving up a game winning home run to rookie Coco Laboy, in a frustrating series sweep in Montreal. Phil Regan (2-0; 1.65 ERA; 3 SV) has been the most solid bullpen contributor, but even he has blown 4 of 7 save opportunities. The Cubs recently acquired Padres starter Dick Selma (1-2; 3.27 in 3 starts for SD), but the bullpen will have to turn it around in order for Chicago to have any chance in the NL East.
Bloomington, April 22 - Harmon Killebrew hit his first 2 home runs of the year as the Minnesota Twins ran their record to 10-1 with a 4-3 win before an afternoon crowd of 4,445 patrons. Minnesota distanced themselves from the young upstart A's by 2 games with the win. Killebrew welcomed Rollie Fingers to the big leagues with a three run 1st inning clout. Killebrew now stands at 399 career home runs. Fingers, in his first major league start, settled down, but the Twins added a run in the fourth as pitcher Tom Hall's sacrifice fly scored Leo Cardenas. Oakland relievers Jim Roland and Paul Lindblad held the Twins scoreless for the rest of the game. Oakland closed to within one run by scoring two in the eighth off singles by Sal Bando and Danny Cater. But, Minnesota bullpen ace, Ron Perranoski set down the last 5 Oakland batters to record his 4th save in as many chances.
Another pitcher made his big league debut with better results than Fingers. Mike Hedlund of the Kansas City Royals one-hit the Seattle Pilots 7-0 in his first career starting assignment. Hedlund dominated the Pilot lineup striking out 6 while walking only one and giving up a scratch base hit to Pilot reliever Gene Brabender in the fifth. Brabender continued his excellent work in the Pilot pen by pitching seven strong innings of relief, but the spotlight shone brightly on the opposing mound. Hedlund, a 22 year old rookie taken out of the pitching rich Cleveland organization in the expansion draft, made 3 relief apperances in 1968 with a 9.00 ERA.
TWINS' OPENING STREAK SNAPPED AT EIGHT BY MESSERSMITH, 4-0.
Bloomington, April 20 - Andy Messersmith was able to do what no other pitcher has done this season - defeat the Minnesota Twins. The Angel ace won his second consecutive decision with a one-hitter against one of the more potent lineups in the American League. Only a Rich Reese double in the fifth blemished Andy Messersmith's mark. Bill Voss and Rick Reichardt each had 2 hits and an RBI for the visitors off Twins starter, Dave Boswell. Meanwhile despite Minnesota's eight game win streak, the young Oakland A's kept pace with a doubleheader sweep over the expansion Kansas City Royals. Reggie Jackson hit his 7th homer of the young season in the nightcap. The Twins and A's are expected to battle over what is perceived as baseball's weakest division occupied by 2 expansion teams.
CLENDENON UN-RETIRES WHILE THE HAWK CALLS IT QUITS
Boston, April 19 - While one of baseball's trouble spots simmered, another erupted as Ken Harrelson announced his retirement after being traded to the Cleveland Indians on the day after Donn Clendenon finally reported to Montreal.
Clendenon announced his retirement after being traded in the off-season to Houston. In March, baseball commissioner Bowie Kuhn ruled Clendenon remained Expo property, and ordered Montreal to send Houston additional compensation for the loss of Clendenon. On April 3, Clendenon changed his mind as he signs a 2 year $100,000 contract. Houston revealed they had offered Clendenon $36,000 per year, so by retiring, Clendenon got himself a $14,000 raise. Houston received pitchers John Billingham and Skip Guinn as compensation for Clendenon.
Clendenon returned to Montreal
with a significant impact on baseball and a hefty raise.
"Hawk" Harrelson follows Donn's lead by retiring after Boston
traded him to Cleveland.
The Clendenon case, as had been feared, gave birth to Harrelson announcement. Harrelson explains that he couldn't leave Boston because of a mountain of outside interests which, when added up, were earning him considerably more than his $50,000 salary. The 1968 RBI champion is baseball's crown prince of the Mod Set, one of the new phenomenon of the times, and has an immense following, mostly of teenage girls who squeal and scream in his presence. Only 27 years old, the "Hawk" admits to reporters that "it'd be a sin for me to retire, but it's a matter of business. I have four children to support. It's the father instinct that makes me leave baseball and concentrate on my business." This season, Harrelson is batting .132 with 2 HR's and 3 RBI with 12 strikeouts in 10 games for Boston.

April 8 - Donn Clendenon's trade to Houston is finally completed. On January 22, the Expos traded Clendenon along with Jesus Alou to the Astros in exchange for Rusty Staub. On February 28, Clendenon announced his retirement before reporting to Houston, but announced even though he was retiring "my door remains open to talk with any representatives of baseball". In a change of tradition involving trades, Commissioner Bowie Kuhn ordered Clendenon back to Montreal and that the clubs continue negotiations and determine what compensation Houston should receive in exchange for Clendenon. In the past, trades would be cancelled upon such circumstances. Today, Montreal sends pitchers John Billingham, Skip Guinn, and $100,000 cash to Houston as compensation.
OPENING DAY AND EXPANSION TEAM HEADLINES
April 8 - Seattle's first ever game is rained out in Anaheim in what may well be an omen for the franchise. The Pilots started off with a bang as leadoff hitter Tommy Harper reached base on an error, then Mike Hegan hit a blast off the right field foul pole off Angels' starter Jim McGlothlin. Jim Gosger added another two run blast to complete a four run first inning. (In reality, the Pilots accomplished the same feat in their Opening Day 4-3 win at California. Hegan even hit a 2 run HR in his first at-bat!) The Pilots led 5-0 when the rains fell with 2 outs in the top of the fifth. The game was replayed on April 10th, but the Pilots were shut down by Andy Messersmith in their first official game, 4-1.

Kansas City fans get a good long welcome back to major league baseball as the Twins defeated the expansions Royals 6-4 in 19 innings. Tony Oliva's second homer of the game broke the deadline in the 19th. In New York, Jim Fairey is thrown out trying to score on a ninth inning pinch hit single off the bat of Manny Mota. The Mets edge the Expos 1-0 in their first ever Opening Day win. San Diego is the only expansion team to register a win in its opener with a 5-3 home victory over Houston. Dick Selma and Bill McCool combine for the win and the save as 2B Roberto Pena goes 3 for 4, scoring 2 runs.
Cincinnati's Clay Carroll records the first ever official save in a 4-2 Opening Day win over the Dodgers. Alex Johnson and pitcher Gary Nolan homered off Don Drysdale to pace the offense, and Carroll retired the last 2 Dodgers with the bases loaded in the ninth.
Expansion Hitting Firsts
| | | | | |
| --- | --- | --- | --- | --- |
| team | 1st hit | 1st run | 1st RBI | 1st HR |
| Seattle | Harper | McNertney | McNertney | McNertney |
| Kansas City | Foy | Foy | Foy | Foy |
| Montreal | M.Jones | Staub | Staub | Staub |
| San Diego | G.Pena | G.Pena | O.Brown | Spezio |
BASEBALL CELEBRATES ITS CENTENNIAL WITH CHANGE.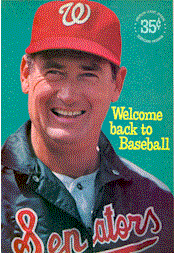 Major league baseball is 100 years old - and looks it. The clubowners - 24 magnates rolled into a composite monolith - awoke one morning and looked in the mirror and the reflection was tantamount to the Picture of Dorian Gray. The National Game had grown old and tired. It needed a face-lifting to restore itself in favor with America's sports buffs.
So, a "Re-structuring" was ordained to fight the rising popularity of pro football, which plays to a 94 per cent of stadium capacity as against baseball's approximately 25 per cent. Too, most ball clubs televise some home games, and some, such as New York's Mets and Yankees and Chicago's White Sox and Cubs put almost their entire home schedule on the boob tube. Pro grid blacks out a 75 mile radius from home cities.
Anyway, the Lords of Baseball pushed the panic button. They made rule changes to bring (they hope) a better balance between the almost hopeless hitters and the predominant pitchers. They decreased the strike zone (from the shoulder to bottom of knee to the armpit to the top of the knee), lowered the pitching mound (from 15 inch maximum to 10 inches), and decreed enforcement of the 20-second rule (that is, the pitcher must deliver the ball within 20 seconds of his previous pitch when the bases are empty). <From a 1998 perspective, stop me if this sounds all too familiar>
As part of the "re-structuring" of baseball, the owners fired their baseball commissioner, William D. Eckert, in December, 1968. On February 4, 1969, Bernie Kuhn, member of a law firm that has represented the National League since the mid 1930's, was selected unanimously as the new commissioner for a one-year term at a salary of $100,000.
Another facet of re-structuring was expansion. The NL went to extremes, geographically, by adding Montreal and San Diego. The AL took Seattle and restored Kansas City to the major league galaxy. KC got back into baseball due to pressure exerted by Sen. Stuart Symington of Missouri after Charles O. Finley took the A's to Oakland. Mr. Symington was going to lower the anti-trust boom on the moguls, whose lawyers advised them that they stood a very good chance of having the draft procedure and standard contract "reserve clause" outlawed.
To stock expansion clubs, each team had to supply six players off their 40 man control list for a total of 30 per new franchise. The new clubs then filled out their rosters to the legal limit of 40 by drafting minor leaguers and signing free agents. Expansion called for another facet of re-structuring - the separating of the teams into 2 six club divisions and a new type of schedule. The AL called for a club to okay 18 games with teams in its own division and 12 with the others. The NL tried to figure out a way to have each team meet the other 11 in an equal number of games. However, with 2 teams in both New York and Chicago and the Angels and Dodgers only 25 miles apart, this plan wasn't feasible. So, the NL followed the AL pattern.