RED SOX; CARDINALS IN SERIES
Boston tabbed as heavy favorites to win in five games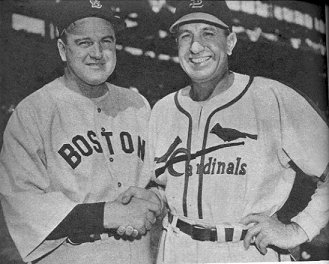 Managers Joe Cronin and Eddie Dyer exchange handshakes
in yesterday's pre-Series warmups at Sportsman's Park.
St. Louis, October 5 -The Boston Red Sox will travel to Sportsman's Park to face the Cardinals in this year's World Series. The oddsmakers have made the Red Sox a prohibitive favorite to win the Series. Even for the sternest of National League fans, the only question seems to be how long will the Series last. Conventional wisdom among NL pitchers is to "stop Musial for a day and either Slaughter or Kurowski, and you've got the Cards pretty well bottled up." Conversely, AL pitchers found no rest against the Boston nine that features dangerous hitters up and down the lineup. The Red Sox scored over 150 more runs than their closest AL counterpart this season. The Red Sox dominated the American League, posting winning records against every team. Boston sprinted past the rest of the AL in June and ended the season leading the junior circuit in hitting, pitching, and fielding. Joe Cronin's club will not beat themselves as they committed only 106 errors all season, the best in baseball and 25 fewer than the sure-handed Cardinals. Although both teams finished nine games ahead, the Cardinals were not as dominant. The Cardinals defeated their closest opponent, Brooklyn, by beating them on the field in 17 of 22 games. However, St. Louis struggled with lesser opponents in the defending NL champion Cubs and the Braves. Cardinal ace Howie Pollet who registered 15 wins before losing has been bothered by a torn back muscle of late.With Tex Hughson scheduled to start Game 1, Boston is listed as a 7-20 favorite, meaning a twenty-dollar wager gains seven dollars. The general perception is that the Series will last five games.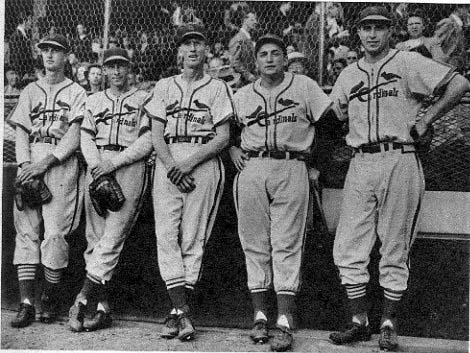 The Cardinal staff will have its hands full with Boston lineup. Left to right: Howie Pollet,
Harry Breechen, Al Brazle, Ted Wilks, and Ken Burkhart.
Chicago, September 22 – The St. Louis Cardinals wrapped up their fourth pennant in the past five years with a 10-2 wallop of the defending champion Chicago Cubs at Wrigley Field. Every player in the lineup got a hit and only Stan Musial and Del Rice did not drive in a run. Erv Dusak homered in the third to give St. Louis a 4-0 lead, but clutch hitting Marty Marion's two run single in the sixth broke the game open as the Cards took a 6-2 lead. Twenty-nine year old GI Murry Dickson registered his 16th win against only 5 losses with a six-hit effort. The next challenge for Dickson, along with Howie Pollet and Harry Breechen, will be the feared Boston Red Sox lineup.
St. Louis started the season off slowly. The club seemed to be in trouble on May 23rd when ace pitcher Max Lanier, infielder Chuck Klein, and reliever Freddie Martin bolted for Mexico. When the trio failed to show up for a game at the Polo Grounds, manager Eddie Dyer said, "If it's true, it's a serious blow to the club." However, the Redbirds seemed to gel as a team at that point and sat atop the senior circuit after a sweep of Brooklyn in mid-June. For the rest of the year, the Cardinals shook off the Brooks every time the two teams met. St. Louis won 17 of 22 contests, easily accounting for the nine game lead the Cards hold. St. Louis' rise coincided with the return of 3B Whitey Kurowski from a pre-season holdout in May, and Enos Slaughter shaking off the rust and regaining his hitting form. Slaughter was hitting in the .240's in May, but currently has his average near .280. This formidable trio in the middle of manager Eddie Dyer's lineup, Kurowski, Slaughter, and Musial, will drive in over 100 runs apiece. Musial is the NL's best hitter with a .376 average. Even if opponent hurlers can get through that trio, the clutch bats of SS Marty Marion and 2B Red Schoendienst await at the bottom and top of the lineup, respectively. However, pitching and defense win championships and Dyer's troops have both. Only Cincinnati's rotation topped the Redbird staff of Pollet, Breechen, and Dickson. But, St. Louis pitchers led the league in opponents' batting average and in strikeouts. Ted Wilks has become a capable backup in the bullpen. The Cardinals finish the series here before returning home to conclude the season against the Reds and Cubs.
RED SOX CLINCH AL FLAG
Williams double snaps four game skid; ends eight game win streak for Chisox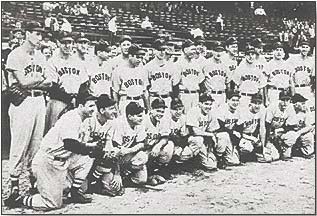 Boston Red Sox - 1946 American League Champs.
Chicago, September 15 - The Boston Red Sox won their first American League pennant in 28 years, when a young pitcher named Ruth starred for the team. Boston defeated Chicago, 5-2 in the first game of a doubleheader to win the championship. With the pennant within their grasp, the Red Sox has been a grim and tight team of late, losing a season high four games in a row. However, Joe Cronin's club clinched a tie on Friday while in the midst of the losing streak. They did so strangely enough with the help of their rival Yankees, who beat the second place Tigers, 2-1, under a new manager (see below). Billy Johnson homered off Virgil Trucks in the ninth inning for the win.
Boston needed no such help today against Chicago who had not lost a game all week. In the third inning, Ted Williams cracked a two run double between CF Thurman Tucker and LF Dave Philley that gave Boston a 3-1 lead. Dave (Boo) Ferriss shut down the Pale Hose, all but rookie Philley who tripled three times, but scoring the Hose's only run. The Boston defense turned four double plays in support of Ferris who posted his 21st victory of the campaign. Sox hurlers have enjoyed such support all season, as the infield combo of Johnny Pesky and Bobby Doerr has helped Boston turn an AL-high 141 double plays. Boston took control of the AL back in June by winning 22 of 31 games, moving ahead of New York in the process. Cronin's club left no doubt as to the outcome around Labor Day weekend by winning 12 games in a row, the longest streak in either league this year. Then, the pressures of the pennant seemed to be getting to the club. But, leave no doubt that Boston has been the class of the league, outscoring the closest opponent by more than 200 runs (853 compared to 652 for Washington). The Red Sox lead in batting average (.274) and pitching ERA (3.18). Cronin will take advantage of the 2 weeks remaining to rest his starters, and did so in Game 2 of yesterday's doubleheader.LF Ted Williams, 1B Rudy York, C Charlie Wagner, and 3B Mike Higgins all rested as Earl Johnson won his sixth game, 7-2. Finally, the Red Sox could enjoy the champagne that had been traveling with the team for this entire road trip.

In other American League news, the Yankees changed managers for a third time this season when Bill Dickey stepped aside on September 13. Club president, Larry McPhail, was obviously disappointed with the club under Dickey's guide. Dickey took over for Joe McCarthy in May. At that time, the Yankees were in first place with a 24-10 record. The club posted a 49-56 record under Dickey, and plummeted down to fourth place at one point in the season. Minor league manager, Johnny Neun, took over the team as they reached Detroit for a weekend series. The team has a 3-1 record thus far as Neun has shaken the lineup a bit by moving Tommy Henrich back to first base and into the second spot in the lineup. Some of the club's troubles can be attributed to the struggles of Joe DiMaggio to regain his pre-war form. DiMaggio has rebounded of late and has his average up to .263 after spending most of the year in the .230's. One highlight in a disappointing year is that Charlie Keller will likely win the home run crown with 43, six more than Detroit's Hank Greenberg.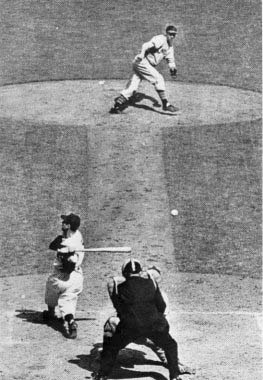 Joe DiMaggio fouls off a Feller offering here
in an earlier game, but not many batters have
even seen Feller's fastball as he breaks Rube
Waddell's record with a total of 354 strike-
outs with two weeks to go in the season.
FELLER SETS ALL-TIME STRIKEOUT RECORD
Rapid Robert passes Rube Waddell with 8 K's in losing effort
September 12 - Robert Feller surpassed Rube Waddell's strikeout record of 343* by fanning Ted Williams in the sixth inning of a 6-3 win against the Boston Red Sox. Feller struck out seven in the game, but the record fell after Feller surrendered a two run home run to Dom DiMaggio. Posted to an early 4-0 lead, Feller got Williams for the record but then walked Bobby Doerr. The celebrating crowd at League Park was silenced as Hal Wagner singled home Doerr which closed the lead to 4-3. However in the seventh, a RBI double by Pat Seery and another double by Hank Edwards gave Feller insurance that he would not have to use. The victory was Feller's 21st of the season. With more than two weeks left in the season, Feller has made 38 starts and manager Lou Boudreau will likely allow Feller at least three more starts this year. Of all the players who have come back from the war and attempted to resume their careers, Feller's comeback has been the most spectacular, and his 1946 season will be one of the great ones of modern times.
* - Subsequent research found that Waddell struck out 349 batters in 1904. During the 1946 season, 343 or 347 was rumored to be the record. The league's chief statistician was unable to authenticate the higher figure of 347 so he ruled Feller would break the record if he were to top 343. (So Feller actually struck out Philadelphia 2B Oscar Grimes for record strikeout #350 in a 4-0 loss on September 15)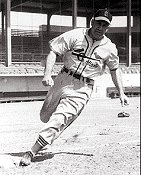 Enos Slaughter (.275; 14 HR;
87 RBI) was once again center
stage as St. Louis beat Brooklyn
for the 15th time this season.
St. Louis, August 27 - The Brooklyn faithful must have felt daggers through their hearts as the wire reports came across this past weekend. Brooklynites will surely lament the last weekend of August perhaps as the end of their pennant hopes. The Dodgers gave up leads in three consecutive one-run losses, and consequently fell eight games back, the same position in which they began August. Earlier in the week, St. Louis opened the door for Brooklyn by losing six straight to Cincinnati and Boston, but the Dodgers could only climb to within five games on Friday, August 23.
On Saturday, Brooklyn battled 19 innings with the Reds at Crosley Field when Grady Hatton doubled home Bert Haas for a 6-5 Cincinnati win. Brooklyn had blown a 3-1 lead as the Reds took the lead in the 8th. Dixie Walker singled to tie the game, and with a depleted bullpen, Leo Durocher turned to rookie Rex Barney for the extra frames. Barney turned in his best performance of the year, but his teammates failed to support him, leaving 25 men on base in 19 innings of play. Meanwhile, the Cardinals completed a sweep of the lowly Phillies, and Brooklyn boarded the train for St. Louis six games out. Durocher's troops were faced with task of sweeping the four game set in order to have the Redbirds within striking distance in September.
In the opener of the Sunday doubleheader, Cardinal manager Eddie Dyer sent ace Howie Pollet out in search of his 20th victory of the season. Durocher countered with rookie Ralph Branca. Durocher, once again, looked the genius as Branca pitched the game of his year, shutting out the Redbirds through seven innings. Branca walked Harry Walker and Stan Musial in the 8th, and Durocher signaled for Hank Behrman to preserve the 1-0 Dodger lead. Enos Slaughter singled to right scoring both runs, and Brooklyn had suffered two demoralizing losses within 24 hours. In the nightcap, Dixie Walker gave the Brooks a big 4-0 lead with a grand slam off Al Brazle. But, the Dodgers again blew that lead and another with Slaughter again in the middle of it all. Country hit a deep fly to left which Pete Reiser got a glove on, but the ball rolled all the way to the fence. Slaughter pulled up at third on the three base error by Reiser. Dick Sisler hit a sacrifice fly to right scoring Slaughter and giving St. Louis a 7-6 win and another agonizing Dodger setback.
Brooklyn again blew a 3-0 lead on Monday, but Pee Wee Reese aved the Bums with a game winning single in the 11th to cut the Redbird lead to seven games. But in the series finale, Harry Breechen (11-7) pitched his first shutout of the year, and stopped Kirby Higbe's (15-4) personal eight game win streak with a 4-0 victory. Brooklyn has only 3 more games against St. Louis, September 12-14 at Ebbets Field.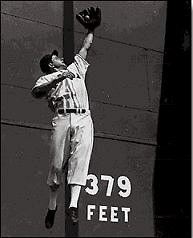 Boston CF Dom DiMaggio is known
for his stellar defense, but Dom leads
the AL in hitting (.347) and went 6 for 6,
hitting for the cycle in a 13-3 win in
Philadelphia on August 14th.
Boston, August 20 - The Boston Red Sox effectively ended any hopes of a pennant in the Bronx by taking 3 of 4 from the pinstripes this weekend at Fenway Park. The series loss dropped New York into fourth place, only one game above .500. Yankee ace Spud Chandler registered his 13th win in the series opener, but Boston retaliated with two victories in tightly contested games. On Saturday, Boston second sacker Bobby Doerr, who leads baseball with 109 RBI, singled in two runs in the bottom of the eighth to cap a 5-2 comeback win. Dom DiMaggio's single in the 14th inning in the opener of Sunday's doubleheader scored Ted Williams for a 2-1 Boston win. Earl Johnson, making only his third start of the season, one hit a bewildered Yanks team in the nightcap for a 7-1 victory. The Yankees were in first place in early June, and this two month long tailspin is certainly not what team president Larry McPhail expected. As he did in Cincinnati and Brooklyn, McPhail installed lights this season at Yankee Stadium. He also built a women's lounge and new clubhouse for his team all at a rumored cost of $600,000. With such expenditures, Yankee manager Bill Dickey seems certain not to return unless this club can bounce back.
In the National League, Brooklyn has gained 3½ games on St. Louis in the matter of one week, closing the gap to six games. The Bums swept the rival Giants at Ebbets in a four game set this week while Cincinnati took four games from the Redbirds at Sportsman's Park. The Reds' pitching staff trails only St. Louis in the senior circuit, but Bucky Walters (4-10), Johnny VanderMeer (8-7), Ed Heusser (9-5), and rookie Ewell Blackwell (7-9) all registered wins over their Redbird counterparts. The Redleg offense came from the unlikely source of SS Claude Corbitt who drove in 6 runs in the weekend set. Despite the four game losing skid, Stan Musial maintains an 18 game hitting streak which ties Brooklyn's Pete Reiser for the longest in the NL. In Brooklyn this week, shutouts by Kirby Higbe (12-3) and Vic Lombardi (5-6) in a doubleheader on Thursday highlighted a four game sweep over the Giants. Dixie Walker broke a 53 game homerless streak by connecting for his 8th HR off Monte Kennedy on Wednesday. Walker is third with a .322 average and second in the NL with 87 RBI. Brooklynites hope their Leo's boys can continue their rush as Brooklyn visits the cellar dwelling Pirates while St. Louis entertain the Boston Braves this week. St. Louis and Boston have split their 18 games to date. Brooklyn has beaten Pittsburgh in 10 of 17 contests. However, the Pirates are expected to vote again on membership into the American Baseball Guild. This last such vote in June preceded a no-hitter by Ed Bahr.

FELLER SETS SINGLE GAME STRIKEOUT RECORD
Rapid Robert strikes out 19 Yankees in 5-1 win.
Cleveland, August 4 - Robert Feller broke his own strikeout record by whiffing 19 Yankees in today's 5-1 Cleveland win. Feller dominated a Yankee lineup which featured Joe DiMaggio batting cleanup for the first time since the All-Star break. DiMaggio returned from a torn cartilage in his left knee, with one hit and two strikeouts. Feller struck out the top 3 batters in the Yankee lineup, Stirnweiss, Johnson, and Henrich, three times each, and walked no one in this pitching gem. Only a Charlie Keller 33rd home run of the year in the 7th spoiled the afternoon for Feller. However, Bob evened the score by strking out Keller to end the game and break the record.

On the last day of the 1938 season, Feller struck out 18 Tigers to break his and Dizzy Dean's record. In 1936 at the age of 17, Feller had tied Dean by striking out 17 Athletics late in the season. He then returned home to Van Meter, Iowa, to finish high school. At the age of 23 Feller had won 103 games, but he enlisted in the Navy the day after Pearl Harbor. Feller missed nearly four full seasons, earning six battle citations as a gun crew chief aboard the battleship, Alabama.

He certainly has not missed a beat after his tour of duty. Rapid Robert leads baseball with a 1.66 ERA and 269 strikeouts in only 233.1 innings pitched, and leads the AL with 16 wins. Feller seems targeted on Rube Waddell's season strikeout record of 343, and manager Lou Boudreau, with his club out of the race, will give Bob every opportunity to break it. For an additional incentive, cereal maker, General Mills, has offered Feller $5,000.00 if he breaks Waddell's record. Feller's next scheduled start is against the White Sox on August 8th at Comiskey Park
Go to the boxscore of Feller's 19 strikeout performance.
BUMS TAKE 2 FROM REDBIRDS
But Brooklyn's Reiser hospitalized after collision with OF wall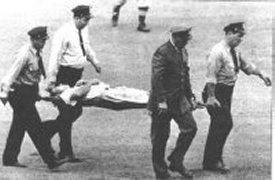 Dodger LF Pete Reiser is carried from the field after a collision
with the outfield wall. Reiser suffered a concussion and facial
contusions. Pete had singled earlier to extend his hitting
streak to 10 games. Reiser leads the NL with 24 stolen bases.
(photo - New York Times)
Brooklyn, August 1 - The Dodgers trimmed St. Louis' lead to eight games but paid a steep price in doing so. Pete Reiser will be lost for some time as a result of injuries suffered in a headlong collision with the outfield wall. Reiser was carried off the field on a stretcher before a silenced crowd of 22,968 spectators. Reiser was admitted into Peck Memorial Hospital. The preliminary diagnosis is a concussion which will hospitalize Pete for 2-3 days. Reiser's aggressive play has been the cause of many injuries to the All-Star. Leo Durocher has moved Reiser from third base to center field and finally in left, as injuries have hampered his play. In the fateful 6th inning, Reiser chased a Del Rice fly ball into the left center field wall. St. Louis taken a 2-1 lead a batter earlier as Erv Dusak singled home Enos Slaughter. As Reiser laid motionless, Dusak advanced to third as CF Carl Furillo quickly retrieved the ball. Reiser had lost consciousness, and the game was delayed ten minutes as officials carried him off on a stretcher. Veteran Joe Medwick replaced Reiser in the field. Remarkably, Dodger starter Vic Lombardi was able to escape any further damage after the delay.

Brooklyn tied the game at two on PH Augie Galan's sacrifice fly scoring Furillo in the seventh. In the 13th, Ed Stevens singled to right with two outs with Furillo scoring the winning run. The day before, the 13th inning had been unlucky for the home teams as St. Louis touched up Dodger relief ace Hugh Casey for five runs in an 8-3 defeat. In the series opener, Brooklyn handed Howie Pollet his first loss of 1946 by taking advantage of five walks from the lefty. Enos Slaughter's two run HR in the 9th closed the margin to a 4-3 Dodger win. The series was again tightly contested, but without any fireworks such as Leo Durocher's outburst at umpire Al Barlick at Sportsman's Park on July 15th. NL President Ford Frick suspended Durocher for five days and fined him $150.

Brooklyn will not have another shot at the Redbirds until a weekend series at Sportman's Park on August 25. Durocher will have a challenge to get his boys back in the race without Reiser. Despite not homering in his last 26 games, Reiser leads the team in circuits with 11. Brooklyn has suffered a power outage all season; only the Braves and last-place Pirates have fewer home runs. Cleanup hitter Dixie Walker (.312, 7 HR, 71 RBI) has not homered in his last 42 games! Yet despite this lack of power, Durocher's Bums lead the NL in runs scored. Without Reiser though, it seems doubtful these two teams will be going down to the final day as in 1941 and 1942.
CARDINALS WIDEN LEAD IN NL
Musial leads St. Louis as Brooklyn falters again on west trip
St. Louis, July 23 - St. Louis has defeated Brooklyn in 11 of 12 games this season attributing to the 9 1/2 game lead which the Redbirds enjoy over the Bums three months into the season. Brooklyn's offense has struggled mightily since the All-Star Break; their team batting average dropping from .269 to .260 over the past 2 weeks. The Dodgers lost 8 on their first 13 game trip west this season, and just dropped 7 on the same trip west after the All-Star Break. Durocher's Dodgers have not been able to win the close ballgames of late contrasted to St. Louis' record of 23-6 in one run games. Case in point was this past Sunday as Marty Marion's 10th inning RBI single earned a 10-9 win over the Boston Braves after Billy Southworth's club had battled back from a 9-1 deficit to force extra frames. Meanwhile, Brooklyn fought with last place Pittsburgh for 8 innings only to have rookie OF Ralph Kiner hit a back-breaking grand slam for a 4-0 Pirate win.
Stan Musial has dominated the National League with a strong post-war campaign. Musial leads baseball with a .373 batting average, a .650 slugging average, 128 hits, and 41 multi-hit games. Cards' ace Howie Pollet remains perfect for the season at 15-0 after a 7-3 win over Boston this past weekend. Meanwhile in the American League, Boston seems ready to pair its superstar, Ted Williams, up with Musial's Redbirds this October. Williams mashed his 21st and 22nd home runs in a doubleheader sweep over the White Sox this Sunday. With his incredible power numbers, Williams also leads baseball with a .488 on-base percentage. That's one good reason why cleanup hitter, Bobby Doerr, leads baseball with 82 RBI. Even an unorthodox infield shift by Cleveland manager, Lou Boudreau, could not deter Williams. SS Boudreau, in the series beginning July 14th, positioned himself on the right side of the infield for the pull hitter. Williams reacted by hitting 6 for 13 and a homer for the series. Williams commented afterwards, " If everyone starts playing me like that, I guess I'll have to turn around and hit 'em right-handed."

GORDON'S BLAST ENDS MARATHON, 8-7.
All-Star game ends in 14th with Yankee's home run at Fenway
Boston, July 9 - The patrons at Fenway may feel good about the 1946 season to date, but the ending of the 1946 All-Star game certainly was an odd feeling for the Boston faithful as Yankee secondbaseman Joe Gordon's home run over the left field wall off Boston Braves pitcher Mort Cooper handed the American League a 14 inning 8-7 victory. The crowd of 34,906 fans cheered Gordon's circuit trip however Red Sox fans must have strained to see a Yankee circle the bases with a game winner in their home park.
National League home run leader Johnny Mize and Phillie rookie Del Ennis homered for the visitors, and Cleveland catcher Frankie Hayes also homered for the Americans. Hayes is rumored to be heading to the White Sox after the All-Star Break. The AL looked to have a 7-5 win until Whitey Kurowski's 2 out single to left off Spud Chandler scored the fleet-footed Dixie Walker from second to tie the game. With the benches empty, both managers were left with the Braves' Cooper and Red Sox' Boo Ferriss to complete the extra frames. To the delight of the home town fans, both were up to the task with Ferriss as the winner with 5 innings of shutout ball. Cooper allowed only one hit through 4 innings of work until Gordon's home run to open the bottom of the 14th inning.
RED SOX: BEST AT THE BREAK
Cards atop the National League; Pollet perfect at 13-0
Boston, July 10 - The Boston Red Sox are tops in baseball at the traditional All-Star break. Since Joe McCarthy's surprise departure from New York, the Red Sox enjoy a 7 game lead and have run away from the Yankees and the rest of the pack. New York was 2 1/2 games atop the AL when Marse Joe stepped aside in favor of Bill Dickey. Since then, Boston has run a 32-11 record while the pinstripes have toiled at a 20-22 pace. The Yankees fading chances suffered a severe setback on Sunday as Joe DiMaggio tore cartilage in his left knee while sliding into second base during the doubleheader in Philadelphia. The Yankee Clipper is likely out 2 weeks. Boston's resurgence can be timed with Ted Williams' discovery of his home run swing. Williams began the season homerless until a May 22 homer against Cleveland's Mel Harder. The Splinter has not stopped his circuit trips and is tied for third in the AL with 17 clouts. 2B Bobby Doerr has been a consistent performer from the cleanup slot, and leads the AL with 74 RBI.
In the National League, the Cardinals held onto first place after a lengthy east coast trip. Ace Howie Pollet is undefeated in 15 starts with a 13-0 record. Stan Musial has shifted to first base, and the addition of 3B Whitey Kurowski to the lineup has been a boost. Despite his late start in May, Kurowski's 75 hits have driven in 55 runs, good for fifth in the NL. Eddie Dyer's club returns home to face the Giants and Dodgers after the All-Star game in Boston. New York challenged St. Louis with a 19-8 June record, but the Ottmen wilted in early July with a 5 game skid prior to the break. Leo's club may threaten the Redbirds, but the Dodgers will need a healthy Pete Reiser to protect the hot bat of Dixie Walker. Reiser has missed time with a back injury yet Pistol Pete is third in the NL with 11 home runs.
14 WAR VETS CHOSEN TO PLAY WITH NATIONAL LEAGUE ALL-STARS
Eight Red Sox players selected for American team
Boston, July 1 - Returned servicemen dominate the National League's All-Star squad which will meet the American League All-Stars for the thirteenth time at Fenway Park, Boston on July 9. Of the 25 players selected by the eight managers and announced by league manager Ford Frick, fourteen are war veterans. They include Johnny Mize, Walker Cooper, Peewee Reese, Pete Reiser, Enos Slaughter, Stan Musial, Al (Red) Schoendienst, Harry (Peanuts) Lowery, Kirby Higbe, Howie Pollet, Johnny Schmitz, Ray Lamanno, Ewell Blackwell and Delmer Ennis. Of these, Blackwell and Ennis are out-and-out rookies, although Blackwell pitched three innings for the Cincinnati Reds in 1942, before joining the Army. Ennis, Philadelphia's home town product, has only one year of professional ball with a Class "B" team behind him.

National League
All-Stars
American League
All-Stars

Johnny Mize, NY
Al(Red)Schoendienst, StL
Frank Gustine, Pit
Marty Marion, StL
Harold(Peewee) Reese, Bkn
Eddie Miller, Cin*
George(Whitey) Kurowski, StL
Enos Slaughter,StL
Phil Cavarretta, Chi
Stan Musial, StL
Fred(Dixie)Walker, Bkn
Johnny Hopp, Boston
Delmer Ennis, Phila
Harold (Pete) Reiser, Bkn*
Harry (Peanuts) Lowery, Chi
Walker Cooper, NY
Phil Masi, Boston
Ray Lamanno, Cin
Claude Passeau, Chi
Kirby Higbe, Bkn
Truett (Rip) Sewell, Pit
Howard Pollet, StL
Morton Cooper, Boston
Johnny Schmitz, Chi
Ewell Blackwell, Cin
MGR-Charlie Grimm, Chicago
*-INJURED. Miller replaced
by Emil Verban, Phila.
Reiser replaced by
Frank McCormick, Phila.

Rudy York, Boston
Mickkey Vernon, Wash
Bobby Doerr, Boston
Snuffy Stirnweiss, NY
Johnny Pesky, Boston
Vern Stephens, StL
Luke Appling, Chi
Joe Gordon, Clev
Ken Keltner, Clev
Ted Williams, Boston
Joe DiMaggio, NY
Dom DiMaggio, Boston
Sam Chapman, Phila
Charlie Keller, NY
Stan Spence, Wash
Bill Dickey, NY
Frankie Hayes, Clev
Buddy Rosar, Phil
Hal Wagner, Boston
Boo Ferriss, Boston
Mickey Harris, Boston
Spud Chandler, NY
Bob Feller, Clev
Hal Newhouser, Det
Jack Kramer, StL
MGR-Steve O'Neill,Detroit

REDBIRDS BACK ON TOP
Dodgers stumble on western road trip
Brooklyn, June 16 - The St. Louis Cardinals have overtaken the Dodgers and have built a three game lead. Brooklyn left town atop the NL, but lost 8 of 13 on a western swing which included a three game sweep by the Redbirds. Brooklyn has returned home to take 2 of 3 extra inning affairs from the Cubs, but perhaps the Bums can turn the tables on the Cards when they visit Ebbets Field this weekend.
In St. Louis, the Cardinals took a nailbiter and 2 blowouts to claim first place. Whitey Kurowski's 2 run single in the 8th decided a 5-4 win in the series opener as Ken Burkhart shut down a Brooklyn rally in the 9th. Kurowski was big time the next game, going 2-4 with 4 RBI in a 10-7 win. In the finale, St. Louis treated rookie Rex Barney rudely in a 11-4 walk. Enos Slaughter's bat (3-5; 2 RBI) came to life as Country has his batting average up to .248. After a brillant debut at Wrigley Field, Barney surrendered 7 runs in 5 innings. St. Louis opened its eastern trip by taking 2 of 3 from the Giants at the Polo Grounds, and then travel to Boston before the big series in Flatbush.
BAHR NO-HITS GIANTS
Pirate rookie shines after divisive strike vote delays game
Pittsburgh, June 7 - There hasn't been much to cheer about at Forbes Field lately. The Pittsburgh Pirates took the field to the boos from 16,884 home fans after the tonight's game was delayed by a strike vote by the home team. However, all was apparently forgiven as they left the field to cheers after a 26 year old Canadian righthander tossed a no-hitter against the New York Giants. In only his fourth start, Ed Bahr (4-2) defeated the Giants, 4-0, and walked off a hero after retiring Walker Cooper to end the game.
The game was delayed as the Pirate club voted to join Robert Murphy's American Baseball Guild and to strike against Pittsburgh management. Murphy has targeted the club located in a union-friendly town in his attempts to force the baseball owners to recognize the Guild as the players' legitimate bargaining representative. Murphy delayed a strike vote on June 5 after meeting with Pirate owner, William Benzwanger. However, Pirate brass never agreed to allow the union vote, and the players threatened to strike the tonight's game against the Giants. While the team voted on the strike issue, manager Frankie Frisch filled out the lineup card that included himself as second, and 72 year old coach Honus Wagner at short! The team never reached the requisite 2/3 vote to strike, and finally took the field to a chorus of boos from fans who well knew the reason for the delay.
Jim Russell homered in the bottom of the first, and SS Frankie Zak, filling in for Billy Cox, hit 2 RBI singles to give Bahr all the offense he would need. Bahr overcame errors by Zak and 3B Jimmy Brown and 4 walks in his effort. As for the union talk, Murphy claims to not be disappointed by the evening's event, but plans to file a grievance with the National Labor Relations Board.
click here to see the boxscore from Bahr's no-hitter
BUMS CATCH CARDS
Dodgers' 11 game streak knots the NL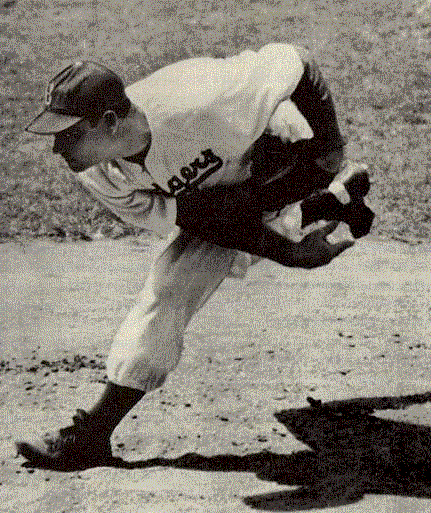 Kirby Higbe has become the ace
of Brooklyn's staff with a 3-1 mark
and 1.47 ERA in 5 starts.
Brooklyn, May 31 - Baseball's hottest team resides in the borough of Brooklyn. Durocher's Dodgers have won 11 straight since St. Louis swept Brooklyn at home. Yet despite that setback, Brooklyn won 19 of their 25 games played in the month of May, and are now tied for first with those Redbirds. Veteran Dixie Walker leads Brooklyn with a .364 average, 5 HR and 30 RBI. But, the man for May has been Augie Galan (.343; 1 HR; 23 RBI) who currently is riding a 9 game hitting streak, and has reached base in 18 consecutive games. Galan has spelled Billy Herman in the infield and Dick Whitman in the outfield. Along with Galan's insertion in the lineup, Brooklyn began winning with Eddie Stanky's placement at second and atop the Dodgers' lineup. Stanky has become a favorite of the gritty Durocher, and is batting .320 in 28 games. Brooklyn's pitching has been solid around workhorse Kirby Higbe and Hugh Casey in the bullpen. Casey has been the benefactor of many Dodger late inning rallies with a 7-0 record and 1.09 ERA in 14 appearances. St. Louis has struggled with the disrupting loss of Lanier, Klein, and Martin to the Mexican League. The seemingly unflappable Redbirds have lost 4 in a row including a doubleheader sweep to the last place Pittsburgh Pirates.
In the American League, the Yankees have stretched their lead over the resurgent Red Sox to 2 and a half games. The sudden departure of field manager Joe McCarthy set the pinstripes back, including a 9-4 loss to Washington in the first ever night game at Yankee Stadium on May 28. Since that loss, Bill Dickey's club has won 4 in a row while Boston suffered a 17 inning setback to the Athletics and a 10-8 loss to Washington.
OFF-FIELD SURPRISES FOR LEADERS
Joe McCarthy resigns; Cards lose trio to Mexico
New York, May 24 - Manager Joe McCarthy left the New York Yankees today with the team's hold on first place in a precarious position. Marse Joe has guided the pinstripes to 7 world championships since taking the reigns in 1931.McCarthy cites ill health as the reason behind his departure, but his clashes with the new Yankee ownership in the form of flamboyant Larry McPhail have been well publicized. McCarthy's frustration began last season as the new management permitted pitcher Hank Borowy to go to the National League on waivers. Borowy was a major factor in the Chicago Cubs' pennant. Perhaps the in-house discontent has spilled onto the field as the Yankees have lost 4 games of their lead over Boston in as many days. New York heads into Fenway for a key three game series with catcher Bill Dickey taking over as manager of the club. Dickey has struggled in 18 games with a .161 average, a homer and 4 RBI.
On May 23, another Mexican bombshell hit organized baseball. This time, the immediate effect was felt by the National League leading St. Louis Cardinals who lost the services of pitchers Max Lanier, Freddie Martin, and 2B Lou Klein. In the early afternoon, the club heard indirectly that the trio had jumped to the Mexican League. When all of the other Cardinals appeared for the series finale against the Giants at the Polo Grounds, Lanier, Martin, and Klein were missing. Manager Eddie Dyer, asked if it was true, that the three had jumped, said he didn't know. "I have nothing to say except that they were due here at the ball park. If it's true, it's a serious blow to the club."
Nothing has stopped the Redbirds to date. The club was 21-7 at the time of the trio's departure. Stan Musial took matters into his own hands in the finale at the Polo Grounds, a 7-2 Cardinal win. Musial went a perfect 5 for 5 with 2 HR's and 5 RBI. The loss of Lanier will be the biggest blow to St. Louis. Lanier was 6-1 with a 0.81 ERA in 6 starts. Lanier opened the 1946 campaign with a no-hitter against the Pirates. Martin was 1-2 with a 4.91 ERA in 22 innings of work. Klein (.151 in 73 AB) was the Cardinals' opening day second baseman, but began to lose playing time to Red Schoendienst. Martin and Klein were approached by Pasquel's agents while playing winter ball in Cuba this February. Both players were upset over Eddie Dyer's decision not to play them more. On the other hand, Lanier has been concerned with the health of his pitching arm and the reserve clause in his standard Players' Contract, which allows the Cards to release him without pay upon ten day notice. The Mexican League offered the 31 year old Lanier a 5 year deal at $20,000 a year and a $35,000 signing bonus.
The Dodgers have climbed into second place behind the Cardinals with a five game winning streak in which they swept the Cubs at home. Durocher's club is led by Dixie Walker who is enjoying a fine season, batting .388 with 30 RBI in 32 games. It remains to be seen if the defections south of the Border will distract the Redbirds long enough for the Bums to sneak into first place.
DETROIT OBTAINS KELL
Tigers send popular McCoskey to Athletics
Detroit, May 18 - Detroit fans were shocked today as the Tigers shipped local hero Barney McCoskey to Connie Mack's club, the Philadelphia Athletics, in exchange for 3B George Kell. The trade filled needs for both squads, but with their team tied for second with Boston, Tiger brass are desperate for some offense where neither Hank Greenberg (.200; 4 HR; 15 RBI) and Dick Wakefield (.220; 3 HR; 11 RBI) have started well. Detroit was obviously impressed with Kell's performance yesterday. Kell belted two homers for Philadelphia in a 5-3 win at Briggs Stadium. Kell batted .318 with 3 HR and 10 RBI for the A's this season. The Tigers have a surplus of outfielders and a weakness at third base. Kell will take Pinky Higgins' job who been disappointing with only 4 hits in 47 at-bats and 17 strikeouts.
Meanwhile, McCosky had been a star in Detroit before the war and played a major role in the Tigers 1940 pennant. He grew up in Detroit, and idolized Charlie Gehringer whose batting stance and swing he copied. But, McCosky has had trouble picking his game back up after three years in the Navy. He had been plagued with leg and ankle problems all spring, and was currently hitting .172 with 2 RBI in 15 games. Though he has struggled this season, Tiger fans will miss Barney McCoskey at the top of the lineup.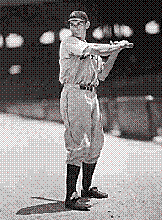 Barney McCoskey hit .304
and tied the Series lead in runs
scored in the 1940 World Series.
YANKEES SWEEP SOX
Williams still homerless as Boston falls five back
New York, May 12 - The New York Yankees grabbed control of the American League with a dramatic three game sweep of the Boston Red Sox. The visitors, now in third place behind Detroit, must have boarded their train to Chicago in utter disbelief of weekend's events. Today, New York won 6-5 as Phil Rizzuto's' first RBI of the year - a 9th inning game-winning single scoring Steve Souchock - broke Boston's hearts for the second consecutive day. Aaron Robinson tied the game in the 6th with a solo home run after Boston had taken an early 5-3 lead off Spud Chandler.
Yesterday, PH Johnny Lindell's 2 out ninth inning RBI single past 1B Rudy York's glove gave the pinstripes a 3-2 comeback win. In the series opener, the great old-timer Red Ruffing cast that ol' magic over the Sox bats with a 2-0 six-hitter. Tommy Henrich singled home Rizzuto who reached on a Pesky error and Bill Dickey homered to give Red all the runs he would need. Perhaps, the most remarkable feat of the weekend is that slugger Ted Williams has not hit a home run this season - 25 games and 108 plate appearances!
YANKS, REDBIRDS GRAB EARLY LEADS
St. Louis, May 7 - The St. Louis Cardinals and New York Yankees each have 2 game leads over their Boston opponents in the early going. St. Louis added a game to their lead with a home series victory over the Braves. The Redbirds swept a double dip on May 5 before losing the series' last game today. In the 2nd game of the doubleheader, Howie Pollet allowed a leadoff double to Connie Ryan then retired 27 batters in a row to cap a one-hit 3-1 win. And it is that type of quality pitching which is the sole reason behind St. Louis (1.51 team ERA) and New York's (1.87 team ERA) hot starts. Both clubs lead their leagues in ERA while the bats have slumped (St. Louis .224 team batting avg.; .225 for New York).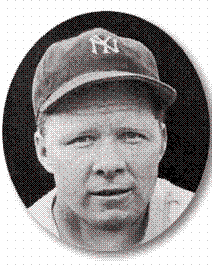 Georgia native Spud Chandler is having a peach of a season. Chandler tossed 23 consecutive scoreless innings before yielding one earned run in a 3-2 loss to
the Senators on April 27. His 0.25 ERA in 4 starts leads the majors.
The Cardinals' staff is led by Max Lanier (4-1; 1.03 ERA in 35 ip), who has the first no-hitter thrown this season, and Pollet (3-0; 1.15 ERA in 39 ip). Meanwhile, Spud Chandler (3-1; .25 ERA in 35.1 ip) and Bill Bevens (3-0; .67 ERA in 27 ip) are tops in pinstripes. The Bomber bats are beginning to awake from an early slumber. Joe DiMaggio has brought his average up to .275 and has 4 HR's with 16 RBI. Ol' Reliable, Tommy Henrich, is living up to his nickname, hitting .296 with a major league leading 7 HR's and 16 RBI.
Meanwhile in Boston, fans are beginning to be concerned over Ted Williams' loss of power. Teddy Ballgame is hitting .403 but has yet to go over the fence in 19 games! Johnny Pesky's bat is quiet at .239, but Dom DiMaggio (.382) leads the majors with 29 hits. Red Sox fans are hopeful this team can compete with those hated Yankees. The Braves opened the season on top, but have slowly lost ground to the Cardinals. Catcher Phil Masi (.412) has a current 13 game hitting streak and is tied for the NL RBI lead at 20 RBI with Brooklyn's Pete Reiser.
In Brooklyn, the bums are showing signs of overcoming a slow start. In late April during a homestand, coach Charlie Dressen took over the reigns as Dodgers manager Leo Durocher was in court facing ssault charges stemming from a post-game incident with a fan last season. The jury quickly acquits Durocher which prompts the judge to tell the jury, "Gentlemen, your verdict is a fair and just one, based upon the evidence. I am glad for the sake of the Brooklyn baseball team that their manager has been vindicated, and no discredit has been placed on the great American game of baseball." The Dodgers begin an 11 game homestand on May 10th which includes two against St. Louis.
GIANTS PURCHASE ROSEN AND GRAHAM
New York, April 27 - The New York Giants purchase OF's Goody Rosen and Jack Graham from the Brooklyn Dodgers for $25,000. Rosen was hitless in two at-bats for the Dodgers this season. The 32 year-old Rosen will take over the centerfield post from Babe Young, whose uncertain fielding has been adding woe to an already weakened pitching staff (team ERA 4.91 to date). Rosen had his best season in 1945 when he played in 145 games with a .325 average and driving in 75 runs.
GIANTS LOSE PAIR TO MEXICAN LEAGUE
New York, April 26 - Pitchers Harry Feldman and Ace Adams quit the New York Giants to join the Mexican League. Each player reportedly received a $10,000 signing bonus and a yearly salary of $10,000. Feldman started 2 games for the Giants this season, and has a 7.59 ERA in 10 2/3 innings of work with 14 strikeouts. Adams has made 3 appearances in relief tallying a 3.86 mark in only 4 2/3 innings. Both players left the club after their appearance in a 13-4 loss to the Braves.
Boston, April 25 - The old and new guard of the American League clashed in a two game set at Fenway Park, and at the end of the series, the Red Sox and Yankees remained tied for first place. Boston drew first blood in a controversial 2-1 win on April 24. Boston scored all their runs in the first inning. The eventual game winner was scored by Johnny Pesky who had advanced to third courtesy of a debatable call by the second base umpire. On a ground ball up the middle, Pesky collided with Phil Rizzuto who was attempting to reach the ball. The umpire awarded Pesky third on an interference call, and Pesky scored on a double play ball. Tex Hughson made the runs stand with a five hit performance, allowing only one run on Nick Etten's solo homer in the fifth inning.
The Yankees drew even in the second game as Joe DiMaggio went 4 for 5, and 6 Yankees each drove in a run in a 6-3 win. DiMaggio has been overshadowed early this season by his brother, Dom of the Red Sox. Dom DiMaggio is hitting .353 while Joe entered this game with a .167 average and 1 HR. Tommy Henrich hit a solo home run, his fifth in the past six games. Steve Roser, Bill Zuber, and Joe Page combined for the win for the pinstripes. The two clubs meet again at Yankee Stadium the weekend of May 10th.
ROBINSON STARS IN MONTREAL OPENER
Jersey City, Apr. 18 - Jackie Robinson drove in four runs with four hits in five at-bats as the Montreal Royals defeated the Jersey City Giants 16-1 before a sellout crowd at Roosevelt Stadium. Robinson grounded out in his first at-bat, but connected for a three run homer in his next at-bat. In the fifth, Robinson demonstrated flashy, tricky baserunning, the likes typically seen in the Negro Leagues. Robinson beat out a bunt for a single and stole second on the next pitch. Robinson took third on a ground ball to 3B Tommy Tatum. Once on third, Robinson danced off the base and forced a balk by the Giants pitcher.
Jackie Robinson is greeted at home plate after drilling
a three run home run over the left field fence in his
second at-bat in Organized Baseball. (UPI)
St. Louis, Apr. 17 - Max Lanier no-hit the Pittsburgh Pirates at Sportsman's Park in a 1-0 Redbird win. Ken Gables' excellent two hit pitching performance was outdone only by Lanier's near perfection. Ralph Kiner drew a first inning walk from Lanier, and then the Cardinal lefthander set down the next 25 Pirates. Lanier supported his own cause by drawing a 5th inning walk from Gables, one of five passes from the Bucs' hurler. Lanier then scored the game's only run on a single by Red Schoendienst.
(Click photo to see boxscore of Lanier's no-hitter)
Washington, Apr. 16 - On a chilly afternoon at Griffith Stadium, Nats hurler Roger Wolff threw the first pitch of the 1946 season, and Dom DiMaggio popped it up to catcher Al Evans for the first out of the season. And with that play, true professional baseball returned to America. Nats' 3B Sherry Robertson led off the bottom of the first with a line drive home run to right field. However, the Red Sox quickly overcame the deficit to march on to a 5-2 Opening Day win.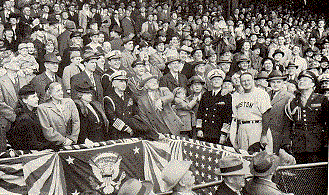 President Harry S. Truman, flanked by Admirals Leahy
and Nimitz, throws out the ceremonial first pitch at
Griffith Stadium to officially open the season.
(New York Times/Associated Press)
In other games, Browns starter Nels Potter outdueled "Prince Hal" Newhouser and the Tigers with a four hitter in St. Louis's 3-2 win at Tiger Stadium. In fact, all of the home teams in the AL disappointed their fans as the visitors won every match. Bob Feller struck out nine as the Indians blanked the White Sox 1-0. In the NL, the Boston Braves defeated the Dodgers 9-3, but the home fans still went home angry as hundreds of fans went home with ruined clothes. The chilly and damp New England weather prevented the newly painted grandstands to dry properly. Braves management issued an apology in the newspaper the next day and offered to pay for cleaning bills.
In March, 1946, two ex-service men stood beside the westbound lane of the Pennsylvania Turnpike, hitch-hiking their way back home. Thousands of servicemen awaited demobilization, even though World War II ended in August of the previous year. Transportation was overburdened with the returning servicemen and civilians who celebrated the end of four years' of wartime travel restrictions. These two servicemen were lucky. Unlike many veterans, these two had homes and jobs which to return. Finally, two state legislators pulled over and gave the two a ride. "They were driving slow I whispered to my buddy," recalled one of the vets, "'Oh, no. We'll never get there at this rate.' Well, they started asking us questions, like 'Where're you from?", and once they found out I was Stan Musial, why, they got it in high gear and drove me right to my doorstep!" Musial spend one week with his family before heading down to Florida. He had a job waiting for him as the left fielder for the St. Louis Cardinals, and he was late. The boys were coming back.